Two Victims In Deadly Los Angeles DUI
A 36-year-old man is contemplating his future from a hospital bed after causing a fatal accident in the early morning hours on the Sunday before Thanksgiving. The alleged cause of the accident is a Los Angeles DUI incident.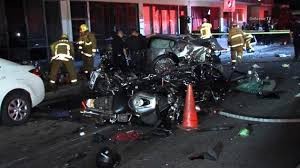 According to various news reports, the as yet-unidentified driver of a Buick LeSabre was speeding when he careened across West 59th Street near Normandie Avenue and slammed into a minivan containing a family of five. The accident killed the mother of the family, who was driving. The father and the three children, all under age 10, suffered minor injuries.
That collision didn't slow the driver down, however. He continued on a deadly path, traveling several blocks and eventually mowing down a pedestrian before crashing into a building where member of the Persuaders Motorcycle Club were holding a party. Even then the car didn't stop, but destroyed several motorcycles before finally coming to a rest. (Pictures from the scene showed the smashed minivan and the flattened motorcycles stretched out in the street.)
A police officer on patrol saw the accident and responded quickly. Ambulance crews ended up transporting eight people to the hospital. One of the children in the minivan suffered a fractured bone.
Police have not yet released the deceased mother's name, but did identify the pedestrian killed in the crash as William Lamar Walker. The coroner's office said that Walker was a youth football coach from Bell Gardens.
Officers arrested the driver, whom they suspect of DUI.
In 2013, the city had more than 2,300 people killed or injured in alcohol-related accidents, according to the California Office of Traffic Safety. A 2014 report from the California Department of Motor Vehicles said that 23 percent of all California DUI arrests occurred in Los Angeles County in 2010.
If you need to develop a sound, systematic defense to a Los Angeles DUI charge, call experienced Los Angeles DUI defense lawyer, Michael Kraut, of the Kraut Law Group.
Call attorney Michael Kraut at (323) 464-6453 for help if you've been stopped for DUI in Los Angeles. Or Contact our team online. We're located at 6255 Sunset Boulevard, Suite 1520, Los Angeles, California 90028.