5 Wild Truck Accidents to Put Your Los Angeles DUI into Perspective
Your Los Angeles DUI shook you up, particularly if it led to an accident and injuries. However, it can be helpful to see your incident in context. To that end, let's take a brief tour for five unbelievably crazy truck accidents: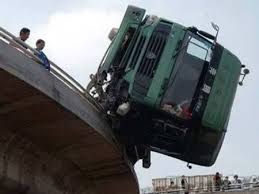 1. Semi Sandwich
On a foggy morning in January 2015, Oregon driver Kaleb Whitby ended up in every motorist's worst nightmare when he was pinned between two semi-trucks on the icy interstate. Whitby explained that he saw the first semi-truck jackknife in front of him on the road, which caused him to plow into the back of the semi and flip his pickup. The driver described hopelessly gripping the steering wheel as the second semi crushed his pickup like a can of soda. Miraculously, Whitby sustained only minor bruising from the accident, while only a dozen of the other people involved sustained injuries.
2. Truck Meets Road Sign
Houston's Interstate 45 was closed for hours after an accident left one end of a semi-truck bed leaning against the structure of an overhead road sign. The driver was completely unharmed—and in fact didn't even notice the incident until much later—as the truck's empty bed was the only part of the vehicle affected by the snare.
3. Cliffhanger
A driver transporting 40 tons of coal nearly met his demise when he made a quick turn that left him hanging off the edge of a 400-foot cliff in southwest China. A police spokesperson at the scene claimed the driver was convinced he was going to die and needed constant persuading to climb to the other end of the truck to escape.
4. Sitcom-Worthy Fiasco
The City That Never Sleeps could probably use a bit more shut-eye—as indicated by the sanitation worker who lost control of a garbage truck and crashed through the third floor of a maintenance facility in August 2011. The strange accident was investigated by law enforcement, while the driver was eventually freed and transported to the hospital with only minor injuries. Workers used a crane to lift the front end of the truck, while the rear was slowly pulled back into the building.
5. …Literally
A viral photo that quickly became a classic meme features a large, white delivery truck printed with the words: "The Republican. Where the News Hits Home." Though there aren't any reports available detailing exactly what happened, it's likely The Republican's PR crew had some serious damage control to do.
Whether you've been involved in a DUI accident that became just a crazy story or caused a lot of damage, our Los Angeles DUI defense attorneys can provide a free consultation for your unique case.
If you've been arrested for driving under the influence in Los Angeles, contact former-prosecutor Michael Kraut for assistance at (323) 464-6453 or online. Our team is located at 6255 Sunset Boulevard, Suite 1520, Los Angeles, California 90028.