It's potentially one the most bizarre Los Angeles DUI trials of 2014…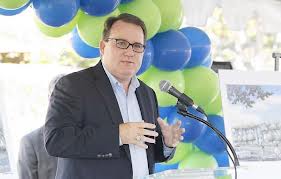 A Riverside Private Eye, Chris Lanzillo, has taken the 5th Amendment (to avoid self-incrimination under oath) over 200 times in a recent deposition.
Lanzillo stands accused of following Jim Righeimer, the Mayor of Costa Mesa, back in 2012, and calling in a fake DUI report on him. The lawsuit says the PI tailed the mayor, called 911, and reported that the mayor had been driving erratically and weaving around. Lanzillo was working for the Costa Mesa Police Association, which had been in a major kerfuffle with Mayor Righeimer and his City Council.
Critics believe that Lanzillo – backed by the Police Association — engaged in an illegal smear campaign. Righeimer's successor, Mayor Pro Tem, Steve Mensinger, says that someone also put a GPS device on his vehicle, when he ran for election.
An attorney representing the Mayor and the Mayor Pro Tem expressed his disgust with the whole situation: "It is very disturbing when any organization associated with law enforcement refuses to answer questions under oath on the grounds that the answer may incriminate them."
The deposition of Lanzillo lasted a full three hours, and he took the 5th 200 times. That means that, on average, Lanzillo took the 5th more than **once a minute for three hours in a row**.
The Costa Mesa Police Union, meanwhile, denies the knowledge of the false DUI and instead places blame on a law firm it hired – Lackie Dammeier McGill & Ethir – which has since been dissolved. The firm had a reputation for representing police associations in a very aggressive manner.
Who knows how the trial down in Costa Mesa will turn out? It's interesting to consider, and it does teach us that DUI cases can easily devolve into a situation of "he said, she said."
How does anyone really know what happened during a DUI arrest (or accident) in an objective way? The answer is that objective fact finding is hard! An accident reconstruction expert – who is familiar with DUI crashes – should get involved, ASAP, and identify what happened prior to the collision. For instance, was the crash unavoidable, or did human error or negligence play some role? The analyst should also look at the mechanical condition of the vehicles involved, weather, traffic and lighting that may have been relevant, and road conditions.
To construct your Los Angeles DUI defense effectively, connect with Michael Kraut of the Kraut Criminal & DUI Lawyers immediately for a free consultation. Continue reading