Ridiculous Los Angeles Petty Theft News: Lemur Theft Played Out "Like a Bad Disney Movie"
In all likelihood, your Los Angeles petty theft charges are pretty dry and mundane.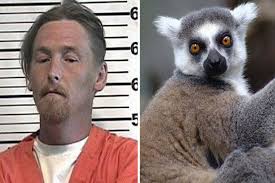 Maybe you shoplifted some clothes or jewelry from an open market shop in Venice Beach or the Promenade; or maybe you accrued a petty theft charge on top of other charges, like robbery, assault, and fraud.
You understand that your situation is serious: you need a good Los Angeles criminal defense attorney to help you solve your mess and move on with your life.
Fortunately (hopefully) your case is not as convoluted as the case of James Edward Welborn, Jr., a Mississippi native who pilfered a lemur named Gizmo and tried to ransom the little critter back to his rightful owner. According to a local Sheriff's Department detective, Ben Brown, the whole episode played out "kind of like a bad Disney movie."
Here's how the strange case went down. Mobile, Alabama resident Julie Harris reported a burglary at her home. The break in artist stole her TV and also pilfered Gizmo the lemur, a small mammal valued at around $1,500.
According to local investigators, Welborn (the alleged thief) took the little creature to his sister Shandi's house and lied about where he found it. Shandi began to doubt her brother's story, after she saw a local news report about a stolen lemur whose picture matched that of her new foster friend. She called her brother and told him about the report and about the cash bounty on the lemur's return. She told him to take the animal away.
Here's where the plot thickens! Welborn talked to his friend, 34-year-old Brian Sanders, and the two men apparently hatched a plan to ransom the lemur for the reward money. Sanders got in touch with Harris and arranged a meet-up at a gas station in Mobile. He didn't bring the creature with him, but he did have a picture of the lemur on his computer. The police later questioned Sanders, who confessed everything, and then investigators made the connections and reunited Harris with her little pet.
Meanwhile, Welborn eluded officers for a while, until he got pulled over in Mobile for a traffic violation. The officers who stopped him ran his identity through a local info system and connected him to Gizmo, the burgled TV, and everything else.
Brown expressed his bemusement to reporters "to take the monkey to his sister, cross state lines and get somebody else to contact the family… and try to get the reward money … this is hands down the oddest, funniest case I have ever worked."
Of course, petty theft cases like this are amusing. But if you face serious charges yourself, you probably find very little humor about what's happened to you and what may await you.
Get in touch with the astute and experienced Los Angeles criminal defense team at the Kraut Criminal & DUI Lawyers now for a free evaluation of your case. We can help you build a good defense.