Monrovia Man Arrested in Southern California after 5-day Crime Spree
Los Angeles County Sheriffs arrested a Monrovia man at Disneyland after his 5 day violent crime spree. The man was arrested after he traveled through 3 different counties in Southern California committing carjackings, home-invasion robberies, and an attempted murder.
The man, Anthony Hislar, was arrested after law enforcement officials informed Anaheim police of the whereabouts of the suspect. He was then located at Disneyland and taken into custody. He was at Disneyland socializing with two people he met on MySpace.
This is not Hislar's first contact with law enforcement. Three years ago Hislar was arrested in Santa Barbara after a high speed chase with police. In 2005, he drove the wrong way on roadways. He was then arrested. Mr. Hislar needs to hire a Monrovia serious crimes attorney. Because if he is convicted of these charges, he probably will never be released from custody again.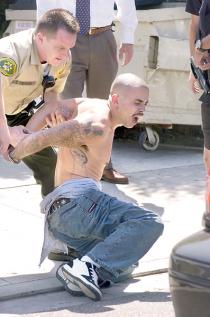 Three years ago, Anthony Hislar was arrested after leading a high-speed chase through UCSB and Isla Vista.
After the arrest at Disneyland, Hisler was booked on more then two dozen charges and his bail was set at $3.4 million.