How New Proposed California Gun Legislation Could Impact Domestic Violence Defense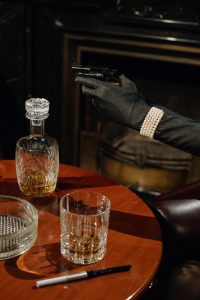 In the wake of the Supreme Court and other courts recently overturning key elements of California's restrictive gun policies—followed by a rash of mass shootings in California over the past few weeks—numerous state legislators are making gun safety a hallmark of their agenda for 2023. Many of these laws seek to replace gun laws that were overturned (with revisions), while others seek to add further restrictions and improve public safety overall.
That said, in many cases, the impacts of new gun control legislation can trickle into many different areas, including cases of domestic violence, and especially those involving firearms. Let's take a closer look at the issue of gun control in the context of domestic violence in California to see what we can learn–and what to expect if some of these new gun bills become law.
Overview of Current Gun Laws and Domestic Violence
As it turns out, those accused of domestic violence in the State of California already face the prospect of huge restrictions on gun ownership, despite recent actions by the courts to weaken gun control laws. Here are some of the key ways these rules may affect the gun ownership rights of domestic violence defendants.
A 10-year ban on gun ownership for all domestic violence convictions.

If you're convicted of even a misdemeanor domestic violence offense, California law prohibits you from possessing, owning, or buying a firearm for 10 years after your conviction. Once you're convicted, you must also provide proof that you've surrendered any weapons you currently own.

A lifetime ban on gun ownership for any felony conviction.

If you're convicted of any felony (whether or not it's related to domestic violence), you're banned from gun ownership in California.

A lifetime federal ban on gun ownership for domestic violence convictions.

Even if California's 10-year ban no longer applies to you, federal law prohibits anyone convicted of misdemeanor domestic violence from owning a firearm.

A firearms ban for those under domestic violence protective orders.

If a judge issues a protective order against you in response to domestic violence allegations, you must surrender any guns you possess while the order is in effect–whether or not you're ultimately convicted of a crime. You also can't purchase any new firearms until the order is lifted.

California's "Red Flag" Law.

Under the current "red flag" law, family members, spouses, and/or housemates may be able to obtain a Gun Violence Restraining Order (GVRO) against you if they can show that you pose a threat to yourself or to someone else.
An Overview of New Proposed Gun Legislation in California
California legislators are currently considering numerous bills that have been introduced to strengthen gun control laws and replace laws that have been overturned. Some of these bills include:
A bill to strengthen state restrictions on public carry laws (Senate Bill 2). This bill includes such provisions as setting a minimum concealed carry age of 21 years old, enhancing the existing CCW license system to screen applicants more carefully, providing more training to qualify for licensing, and identifying "safe spaces" where guns can't be carried.

A bill requiring gun owners to carry liability insurance against negligent use of firearms. (Senate Bill 8). If passed, this would make California the first state in the nation to have this requirement.

A bill proposing an additional tax on firearms and ammunition to fund gun violence prevention initiatives. 

A bill allowing individuals to add themselves to a DO NOT SELL list for firearms.

A bill that would extend the firearms ban on those under domestic violence protection orders for another three years after the order is lifted.
How These Bills Could Affect Domestic Violence Cases
Of all the gun control legislation currently under consideration by California lawmakers, the bill most likely to affect domestic violence cases is the one extending the ban on gun possession for those under protective orders. And because there is generally less resistance to gun restrictions in the context of domestic violence, it's the bill least likely to encounter court challenges if it is passed. This bill, in particular, could potentially make it easier for those falsely accused of domestic violence to lose their gun ownership rights for an extended period of time–based only on the testimony of the accuser and a preponderance of the evidence–and even if the accused never gets charged with a crime!
An Uphill Battle
While recent polls show Californians favor more gun control restrictions by a margin of two to one, legislators on both sides of the aisle believe most of these bills will face court challenges if passed, meaning it could be potentially years before new laws take effect. So even if proposed new rules could impact domestic violence cases, it isn't likely to happen in the short term. Even so, considering how domestic violence defendants already face significant difficulties when it comes to keeping their gun ownership rights, it's wise to pay attention to new gun laws and how they might affect these cases going forward.
Ultimately, while the proposed gun control legislation in California is aimed at reducing gun violence and making communities safer, it could potentially make it even harder for those wrongfully accused of domestic violence to protect their rights. If you have been accused of a domestic violence offense, it's important to consult an experienced criminal defense attorney as soon as possible. Remember that any conviction of a domestic violence crime or any protective order can have negative repercussions on your life. A skilled Los Angeles defense attorney can work to get charges dropped or reduced, help prevent the issuing of unfair protective orders, or even get existing domestic violence restraining orders changed. Call our offices today to schedule a consultation.