DUI Driver on Scooter Faces Felony Charges
Under California's vehicle codes, police can charge a driver who is DUI in Los Angeles with a felony if that driver has had three previous convictions for driving under the influence in the last 10 years or if the driver has had a previous conviction for a felony DUI. The law does not specify what type of motor vehicle the person has to be driving for that felony charge to stick.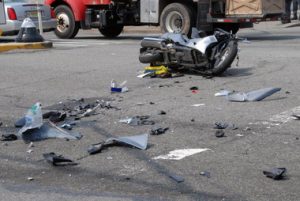 The DUI laws in Montana have a similar provision, which is unfortunate for 64-year-old John Adrian Langstaff of Missoula. He wasn't behind the wheel of a car, but was on a scooter when police picked him for DUI.
According to KGVO radio, the Missoula police department sent an officer to a post office when callers reported they had seen a man drinking a can of beer while he was driving a scooter. Witnesses said he spilled part of the beer when he parked and finished the rest up before he went inside the post office.
When the Missoula officer and a Montana State police trooper investigated, they found that Langstaff had three previous DUI convictions. That made it a felony charge. Langstaff went to jail but got out a few hours after posting $10,000 bond.
Relatedly, one woman in Carlsbad, California, is paying a steep price for her DUI on a motor scooter. Around 3:45 in the morning of June 29th, the unidentified 19-year-old lost control of her scooter while speeding around a turn and crashed into a center divider on Cannon Road. The impact threw her from the scooter, and she hit the roadside, which severed her arm.  Fortunately, a police officer arrived within a few minutes and applied a tourniquet to stop the bleeding. They saved the young woman's life—but not her arm.
Los Angeles DUI defense lawyer, Michael Kraut, of the Kraut Criminal & DUI Lawyers is standing by to offer critical insight into your case and potential defense options. Call him and his team today to begin regaining control over your case and your life.