Awful Situation: While Allegedly DUI, Daughter Runs Over Her Own Father in the Driveway, Killing Him
We see (and report on) so many disturbing Los Angeles DUI cases. Unfortunately, these events often seem to blend together.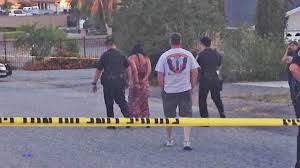 Whether you've been following this blog for several weeks or many years, you've probably noticed a recurring theme: people often make dumb/dangerous decisions to drive DUI and then compound their woes by doing other dumb/dangerous "stuff" after the fact, such as leaving the scene of an accident, spitting in the face of a police officer, etc.
A really distressing case out of Riverside presents a dramatic, deeply disturbing portrait of what can "go wrong" during a DUI. According to witnesses, 37-year-old Soukvilay Barton had been fighting with family members at her Riverside home on the 14000 block of Bush Avenue last Friday evening. In a fog of anger, Ms. Barton hopped into her BMW convertible and attempted to leave the home. Her father, 69-year-old Bounmy Rajsombath, did not want her to get in the car, because she had been drinking. He ran to the driveway to stop her from backing out of the garage, but she did so anyway and struck her father. Barton immediately stopped the car as soon as she realized she injured her dad and collapsed sobbing. Emergency workers rushed Rajsombath to Riverside Community Hospital, where he was later pronounced dead.
Police arrested Barton, meanwhile, for DUI and escorted her to the Riverside Police's Magnolia Station. Reports suggest that she could face enhanced charges, such as DUI manslaughter, in connection with the death of her father.
According to sergeant Dan Reeves, who investigated the tragedy, Rajsombath spent his final moments pleading with his daughter not to drive DUI, before she hit and killed him. The situation speaks to the often forgotten fact that DUIs can tear families asunder, sometimes literally. Obviously, this young woman did not want to hurt or kill her father, but a single bad decision or momentary lapse of reason can lead to lifetimes of agony and remorse, both for the offender (and for the offender's family) and for the victim (and the victim's family).
Depending on the nature of a DUI manslaughter, prosecutors can ask for enhanced charges, such as "gross negligence" – a special kind of negligence beyond standard carelessness – that can lead to extra jail time and more penalties.
For help understanding how to deal with your case, call an experienced Los Angeles DUI defense attorney with the Kraut Criminal & DUI Lawyers today for sympathetic and sound assistance.

Did police stop you for driving under the influence in Los Angeles? Contact DUI defense attorney Michael Kraut for assistance at (323) 464-6453 or online. We're located at 6255 Sunset Boulevard, Suite 1520, Los Angeles, California 90028.