As if Celebrity Southern California DUI Arrests were Not Wild Enough… 3 Totally Bizarre DUI News Stories
The epidemic of celebrity Southern California DUI stories has provoked a national discussion over policy and road safety. Just last week, for instance, as this blog reported, Corey Dillon — a former NFL runningback and a member of the 2004 Patriots (Super Bowl Champions) — was arrested for driving under the influence in Malibu. Stories like Dillon's break all the time, unfortunately, sending the wrong message to impressionable drivers. These incidents sear into the collective memory. Who could forget the Nick Nolte DUI mugshot or the loaded comments Mel Gibson allegedly made after his DUI arrest? Truly outlandish DUIs happen to "everyday" people, as well. Here are three fascinating examples from the DUI news annals: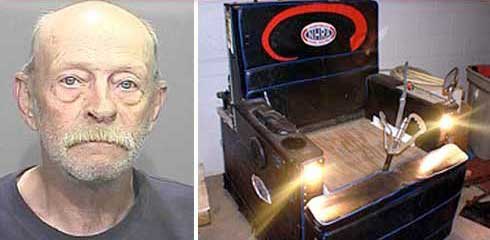 1. DUI Driver Injures Judge who Originally Sentenced Him for DUI
This story, from mid-April out of Maryland, is both ironic and tragic. A driver named Rene Fernandez careened into a car containing Judge Edwin Collier and his wife Ellen, causing severe injuries to both husband and wife. Fernandez had come before Judge Collier more than a decade ago on charges of DUI. Collier gave him a suspended sentence – let him go without jail time.
2. Women Arrested for Driving DUI on Train Tracks
This is a story from late February 2010 in Redding, Pennsylvania. A local 65-year-old woman named Bonnie Lehfeldt was driving after her dog who had gotten loose. Her Nissan Sedan got stuck on some train tracks. A local man managed to pull her from her car in the nick of time – right before a train plowed into the Nissan and pushed it for 200 feet. Had Lehfeldt been in the car when the collision occurred, she likely would have been killed or at least seriously injured. Police arrested her for DUI.
3. DUI while Piloting a Motorized Armchair
This story, from November of last year, involved a 61-year-old man who drove a motorized armchair out of a pub and into a parking lot while having a blood alcohol concentration of three times the legal limit.
Remember, even if you are not driving a car, truck, or motorcycle, you can still be pulled over for driving under the influence in Southern California!
California Vehicle Code Sections 23153(a) and 23153(b) govern what happens in cases of driving under the influence in Los Angeles with injury. Depending on the circumstances of the injury, the DUI driver can be hit with a felony charge (instead of a standard misdemeanor) and, as a result, can face much stricter penalties including the loss of the right to vote as well as higher fines and longer jail time.
Whether you have been pulled over for a "standard" Los Angeles DUI or a complicated injury DUI in Los Angeles, you likely need effective and compassionate help with your legal case.

Defendants in similar positions have trusted Attorney Michael Kraut of the Kraut Criminal & DUI Lawyers for effective help. Attorney Kraut spent years as a District Attorney for L.A., and he attended Harvard Law School. He has also served as an expert TV news commentator – discussing DUI-related legal issues on networks like Fox.
If you have been arrested for a DUI in Los Angeles or you are under investigation for driving under the influence in Southern California, please contact Los Angeles criminal defense attorney Michael Kraut for 24/7 assistance by phone at (323) 464-6453 or toll free at (888) 334-6344 or online.