Young Officer and Mother Killed by DUI Driver
Police officers on patrol in their vehicles are all too often at risk of serious injury or death when they're dealing with DUIs in Los Angeles and the surrounding counties. It's an occupational hazard for law enforcement personnel all over the country, who stop by the side of a road to make traffic stops or assist motorists having trouble and end up losing their lives when impaired drivers swerve and slam into them.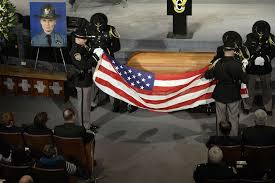 In Denver, Colorado State Patrol Trooper Jamie Jursevics suffered fatal injuries when investigating a minor crash on the interstate near the city. Eric Peter Henderson, 52, a retired Army colonel and Legion of Merit award winner, was allegedly driving home intoxicated from a Denver Broncos game when he struck Jursevics and then fled the scene. Motorists had already alerted the state police to Henderson's driving; Jursevics had heard the reports and was trying to pull him over to the side of the road with her flashlight when his truck hit her.
When police caught up with Henderson he was still apparently intoxicated and the front of his truck was damaged. They charged him with vehicular homicide, failure to remain on the scene, driving under the influence of drugs or alcohol and careless driving resulting in death. A passenger in Henderson's car, who had been drinking with him, reported dozing off in the vehicle and then waking up when he heard a big thump. The court set Henderson's bond at $1 million.
Trooper Jursevics left a husband and an eight-month-old daughter. A photo making the rounds on the Internet shows the infant girl sitting on a black background with her mother's uniform hat on her head and Jursevics' uniform by her side.
Attorney Michael Kraut of the Kraut Criminal & DUI Lawyers has been an effective Los Angeles DUI defense attorney for nearly two decades; he and his team can help you identify an appropriate strategy.
If police stopped you for Los Angeles DUI, you may be worried and anxious. Contact Harvard Law School educated, ex-prosecutor Michael Kraut for assistance at (323) 464-6453 or online. Our team is located at 6255 Sunset Boulevard, Suite 1520, Los Angeles, California 90028.