Yet Another Guilty Verdict in a Major Los Angeles Medicare Fraud Case (This Time, for $1.5 Million)
A federal jury just convicted 49-year-old Godwin Onyeabor and two confederates of scheming to defraud Medicare in Los Angeles to the tune of $1.5 million.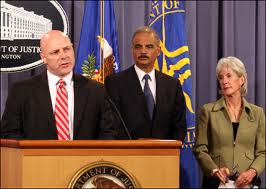 Onyeabor, who had been working for a San Bernardino company, Fendih Medical Supply Inc., paid kickbacks to another doctor and healthcare professional to write fake prescriptions for power wheelchairs and other medical equipment.
Onyeabor's scheme lasted from 2007 to 2012; he billed Medicare for fraudulent claims totaling $1.5 million. Medicare paid out almost $1 million of that money.
During the trial, patients testified that Onyeabor's confederates lured patients to clinics by promising them juice and free vitamins. Instead, they wound up with power wheelchairs!
Onyeabor and the two confederates (48-year-old Heidi Morishita and 58-year-old Sri Wijegunaratne) could face a decade behind bars in addition to $250,000 in fines for each guilty count.
The Los Angeles HHS regional office, together with the FBI, investigated this case. It's part of a growing effort made by the Obama Administration to crack down on Medicare fraud and abuse. According to some estimates, the Federal program loses $60 billion every year due to abuse and fraud, in spite of increasingly aggressive Federal counter tactics, such as the formation of the Medicare Fraud Strike Force.
How this case could inform your charges?
The Los Angeles white collar crime defense team at the Kraut Law Group understands that you and your family are pretty scared about the charges you face and that you're confused about what you can do to cope with the situation.
As an ex-prosecutor (and Harvard Law School educated attorney) Mr. Kraut has the experience, practical understanding of the law, and connections to provide a vigorous, effective defense for you, even if you face incredibly complex charges. Get in touch with Mr. Kraut and his team right now for answers to your questions.