Will Public Shaming Discourage DUI Drivers?
Although some arrests for DUI in Los Angeles get big play in the media—especially if there's some celebrity or prominent politician involved—most drivers manage to keep their incidents fairly private.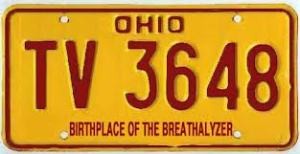 But some communities in the U.S. believe that publicizing the names of people charged with DUI will help discourage the practice of getting behind the wheel when you've had too much to drink. The theory is that most people will be careful to avoid the notoriety that comes with such an arrest.  If you lived in Helena, Montana, for example, you probably wouldn't want your name to appear in the Independent Record's weekly listing of people convicted of DUI offenses. (They even list convictions for driving with a high level of THC—marijuana's active ingredient—in your bloodstream.)
A legislator in Mississippi wants to take the concept of public shaming of DUI drivers to another level. State Representative Gary Chism plans to introduce legislation that will require anyone convicted of DUI for a second time to install a special yellow license plate—with bright red letters—on their vehicle.  He calls it a "Scarlet Letter Tag."  The cars would have to carry this special license for a year.
Ohio already has a similar law, passed in 2014, that requires second, third and fourth time DUI offenders to have a yellow license plate with red lettering on their vehicles for as long as their license suspension lasts.
Although multiple DUI offenders in California may not face the ignominy of a "Scarlet Letter" license tag, they do pay higher penalties than those convicted of DUI for the first time. California Vehicle Code 23542 calls for imprisonment in jail from 10 to 364 days, a fine of anywhere from $390 to $2,000 and a license suspension of two years.
Do you need assistance constructing an appropriate response to a DUI charge? Look to the Kraut Law Group's Michael Kraut for insight and peace of mind. Mr. Kraut is an experience Los Angeles DUI attorney with many relevant connections in the local legal community.