The Slippery Slope to Los Angeles Medicare Fraud (And Other Crimes)
Angelenos read the stories all the time and judge harshly: when doctors, chiropractors, dentists, pharmacists and other providers commit healthcare fraud in Los Angeles, we have a visceral reaction of disgust.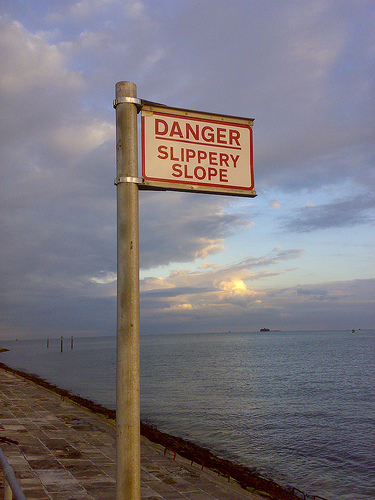 • How could someone charged with caring for the lives of our neighbors so grotesquely take advantage of their positions of power?
• Given our fiscal crisis at home here in California and nationwide, why would anyone try to rob the already fast-dwindling Medicare coffers?
If you or someone you care about has been charged with a crime, such as Southern California health care fraud – or even a marginally-related crime, such as insurance fraud in Los Angeles, credit card fraud in Burbank, etc. – you may feel an urge to respond defensively. First of all, the charge against you might be unfair, unwarranted, or overly harsh. But even if you did do something wrong, it wasn't as if you sat up in bed one morning and decided to go down the "path of evil" for arbitrary reasons.
In fact, very few people engage in Los Angeles health care fraud schemes to be purposefully immoral. Quite to the contrary, Los Angeles healthcare fraud often begins when a professional or personal need is not met. For instance, perhaps you are a physician who got sick and tired of the way that the insurance companies treated you and withheld funds. Your practice suffered, and you found it more and more difficult to keep up with your workload, treat your patients with compassion and attention, and have a life at the end of the day.
So you felt like you "deserved" a little something back for your efforts.
Thus, you went down a slippery slope. You began to engage in illegal activities that grew in sophistication, size, and complexity over time. This continued until, of course, you were investigated, arrested and charged.
At the end of the day, yes, you engaged in stupid or illegal practices. But you were simply trying to even out an unfair playing field that prevented you from doing the good work that you went into medicine to do.
The question now is: What can you do to set the score right, make effective reparations, protect your professional reputation and license (if possible), and respond to critics, both in your community and in your professional and personal circles?
The Kraut Law Group has an incisive, compassionate, and highly respected team. A Los Angeles criminal lawyer can listen to your needs and help you develop strategies to minimize your penalties and maximize your ability to move on from this event. Attorney Michael Kraut is a former prosecutor (he spent nearly a decade and half as a Senior Deputy District Attorney for Los Angeles), so he understands how prosecutors operate and how defendants can best fight the charges against them.