Try to imagine the worst place to drive DUI in Los Angeles.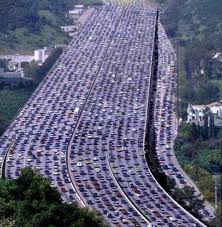 If you said "the 405," you would probably have a lot of people who would agree with you.
The 405 is notoriously clogged with Sig alerts and other nasty types of traffic not just during business rush hour but at many other (often unpredictable) times of day and night. It's not uncommon, for instance, to wind up in a Sig alert on the 405 at 9 pm on a Sunday, for instance.
The 405 is a crazy road.
Of course, one way to make any trip on the 405 worse is to drive under the influence of drugs, alcohol or prescription medication.
To wit, let's take a close look at a case out of Costa Mesa; police arrested a woman early last Sunday after a crash on the 405. She apparently drove onto the off ramp and shortly thereafter smashed head first into a car exiting the 405 on Fairview Street. The accident critically injured the driver of the second vehicle, and paramedics rushed that person to Western Medical Center in Santa Anna for treatment. According to a California Highway Patrol dispatcher, the crash took place at around 12:26 am. The name of the suspected DUI driver has not been released, but news reports said that she collided with a white SUV.
This story illustrates why DUIs can be so particularly pernicious and dangerous.
It's not just that driving under the influence slows down your reaction time; driving DUI can also lead to terrible decision making.
If news reports are correct, this woman could wind up in jail for well over a year, even if the victim in the white SUV survives, because of California vehicle code 23153, which charges injury DUIs as felonies.
Whether you stand accused of injury DUI or a non-injury misdemeanor DUI, you probably need legal help right away to calculate how to respond. Call former prosecutor and widely respected Los Angeles DUI defense lawyer, Michael Kraut of the Kraut Criminal & DUI Lawyers, right now to schedule a consultation about your possible next steps.