Pasadena Lewd Conduct News: Charge for Lutheran Peeping Tom
A 39-year-old man from Thousand Oaks stands accused of Southern California lewd conduct.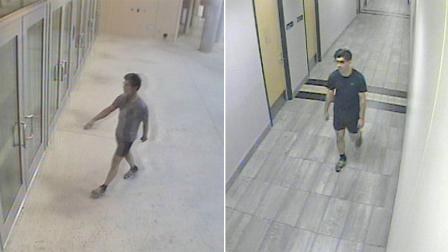 Authorities arrested David Tenenbaum for peeping at California Lutheran University's women's locker room, following a three-month investigation by the Ventura County Sheriff's Department. The investigation began in May, when local police got a phone call saying that a man had been spotted in the Gilbert Sports Arena's women's locker room.
Two women swimmers saw the man in the shower. They asked him why he was there. According to detective Marty Luna, "He just kept apologizing as he was staring at them" but didn't leave. After the women left, the man allegedly peeped through a cracked and open door.
A few weeks later, other women found him "committing lewd acts" in the shower.
When authorities responded to these women's calls for help, they found the female locker empty… and they found Tenenbaum in the men's locker room. As they quizzed him about the incident, the two women from the first incident saw him and recognized him as the peeping Tom from May. Tenenbaum fled before the authorities arrived. After three months of news alerts and surveillance, a public tip led police to Tenenbaum.
Getting arrested for lewd conduct in Pasadena can be a devastating experience, and the consequences can be painful both in the short-term and over the long-term. In the near-term, you may face fines and fees, a humiliating court experience, jail time, and additional punishments, particularly if you committed lewd conduct in conjunction with other Pasadena crimes, like burglary, theft, or violating your parole.
Over the longer term, you need to worry about the sex offender label, which can be affixed to your identity for years – if not for a lifetime. Once you're labeled as sex offender, you'll likely find it challenging to develop normal relationships, find work that you love, serve your community, and shake off the residue of your unfortunate incident.
To that end — to avoid both the short-term pain and the long-term pain — consider connecting today with a Pasadena lewd conduct defense lawyer with the Kraut Law Group. Mr. Kraut prosecuted Los Angeles sex crime offenders for years, in capacity of District Attorney for LA, before becoming a criminal defense attorney. He understands how prosecutors think, and he can use his knowledge and relationships to help you build your defense.

If you have been arrested for a crime in Pasadena, please contact Pasadena criminal defense attorney Michael Kraut for 24/7 assistance by phone at (626) 345-1899 or toll free at (888) 334-6344 or online. We're located at 790 East Colorado Boulevard, 9th floor, Pasadena, California 91101.