She's No Jewel: Convicted Thief Arrested for DUI
Kayla King has a pretty impressive rap sheet for a 24-year-old. Like many drivers arrested for DUI in Los Angeles she's had some previous run-ins with the law; now she's added some more serious new charges to her record.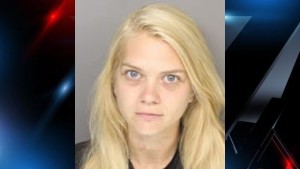 King, who hails from South Carolina, pleaded guilty last year to grand larceny after stealing almost $38,000 in jewelry from her in-laws. King got off lightly with a sentence of five years' probation, but she didn't learn her lesson. Police arrested her for shoplifting earlier this year.
She was out on $500 bond from that charge when officers from the Greenville Police Department pulled her over around 1 in the morning of August 28th. They approached her on either side of the car. King refused to cooperate with their requests to get out of her 2015 Chevrolet coupe, so the officer on the driver's side of the vehicle tried to reach in and unbuckle her seat belt. That's when King restarted the car and drove off—dragging that officer with her. The movement threw the other officer, who had been leaning in on the passenger side, into the car.
Fortunately for both officers, King crashed after going a very short distance. But she wasn't finished. After the wreck, she reached over to the officer who had landed in her car and attempted to grab the gun out of his holster. She wasn't successful.
King ended up in the hospital after the crash and so did the officer dragged by her car. Both have been released, the officer to his home and King to the Greenville County Detention Center, where she remains held on no bond. She should probably get accustomed to being inside; police have charged her with attempted murder, DUI, kidnapping, possession of a controlled substance and failure to stop.
Do you or a family member need insight from a qualified Los Angeles DUI attorney? Contact Michael Kraut of the Kraut Criminal & DUI Lawyers to set up your free consultation.
If police arrested you for Los Angeles DUI, you may feel scared and confused. Contact Harvard Law School educated, ex-prosecutor Michael Kraut for assistance at (323) 464-6453 or online. We're located at 6255 Sunset Boulevard, Suite 1520, Los Angeles, California 90028.