Santa Barbara Police Officer Acquitted of Southern California Lewd Conduct Charges
After a highly publicized trial, former Santa Barbara police officer Brian Sawicki, has been acquitted by jury on charges of lewd conduct in Southern California and illegal electronic peeping.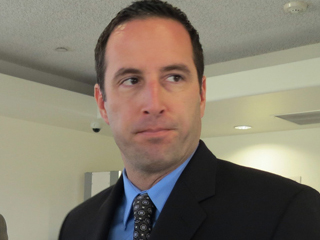 Sawicki was convicted of two misdemeanor counts – resisting evidence and destroying evidence – however, the jury found him not guilty of trying to expose himself to two 13-year-old girls on Refugio State Beach in 2010.
The story is a little bit crazy.
Sawicki claimed that he had been trying to make a sexy video on the beach for his girlfriend. To prepare, he set up a hidden camera in a restroom on the beach and lied down on some rocks in a secluded section of the beach. As we was getting ready — massaging himself with suntan oil — two 13-year-old girls wandered over and saw him in his birthday suit. Unsurprisingly, they freaked out. The girls told the park ranger, who approached Sawicki, who fled on his bike. Sawicki later erased video footage of him masturbating with the two young girls in the background, but local police detectives managed to restore that footage as well as obtain footage that Sawicki made of people changing in the bathroom and using the bathroom.
The jury ultimately believing Sawicki story that he was trying to make an erotic video for his girlfriend. They thus acquitted him of the most serious charges, such as Southern California lewd conduct, unlawful electronic peeping, and annoying or molesting teenage girls.
The two misdemeanor convictions could still net the 36-year-old ex-officer substantial penalties, including $2000 in fines and 18 months in county jail (maximum sentence). He is due back in court soon for sentencing. Sawicki had actually tried to work out a plea deal, but prosecutors wanted to take him to trial. The local Deputy DA claimed to be 'absolutely surprised' by the jury's verdict; Sawicki and his representative were pleased.
Defending against Southern California sex crime and lewd conduct charges
Even if you face seemingly insurmountable odds – or at least daunting ones – there is no reason to abdicate hope or lose faith in your ability to prevail. The legal process is slow and deliberate for a reason. The law is structured to give defendants ample opportunity to explain/defend themselves. Even if local news reports or even friends and family have jumped to conclusions about your relative guilt or innocence, the law allows due process to proceed.
The team here at the Kraut Law Group can help you understand your charges, focus your defense, and come up with the best path forward. Get in touch with Attorney Kraut today to get to unpack your most sensible defense options.