Political World Roiled, as Medicare Fraud Raid Targets Senator Menendez's Close Friend
A raid on the clinic of Dr. Salomon Melgen — the culmination of a long Medicare fraud investigation — has roiled the political world.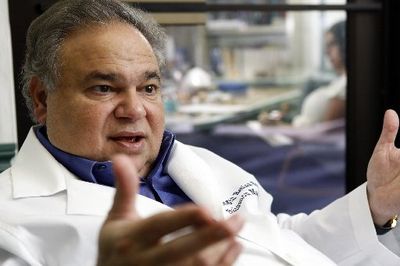 Dr. Melgen is a close friend of New Jersey Sen. Robert Menendez, who flew on the eye doctor's private jet to the Dominican Republic on three separate occasions. Those acts earned Menendez a slap on the wrist from the Senate Ethics Committee. (Menendez responded by reimbursing the doctor $50,000 for the trips.)
A right wing website, The Daily Caller, has accused Menendez of having relationships with under-aged prostitutes during those trips to the Dominican Republic, allegations the senator strongly denies. According to a spokesperson for his office "all those allegations… of engaging in prostitution are absolutely false… Senator [Menendez] has known Melgen for years, and his travel on Melgen's plane on three occasions has been reported and reimbursed required by the rules."
Dr. Melgen contributed over $400,000 over two decades to [mostly] Democratic candidates.
An anonymous tipster, who contacted the Citizens for Responsibility and Ethics in Washington in 2012 under the name "Peter Williams," made the allegations that the Senator had been with the prostitutes.
It's obviously too early in the investigation to know exactly what happened and who did what wrong, with respect to the fraud charges.
But you can learn a key lesson, if you've been arrested for Medicare fraud or investigated for a Southern California white-collar crime. And that lesson is this: what you don't know (about your case, the law, anything) CAN hurt you.
If you don't understand the charges you face — or don't know what the government knows about what you did (or believes you did) — you may be less than strategic with your legal response. There is a solution, though: leverage the services of a competent, respected Los Angeles fraud attorney, like Michael Kraut of the Kraut Law Group, to get a handle on your legal situation and build a stalwart defense.