Pasadena DUI Technology Debate: Anti-DUI Cell Phone Apps Concern Police
To cut down on driving under the influence in Pasadena and elsewhere in the Los Angeles County area, police officers often set up checkpoints to stop people suspected of DUI in Pasadena, DUI in Glendale, DUI in Burbank, and DUI in Los Angeles. Often, the drivers come upon these checkpoints by surprise. But some technologically adroit drivers are starting to outsmart checkpoints by leveraging the power of new cell phone apps, such as PhantomAlert, Cobra iRadar, Trapster, and Fuzz Alert.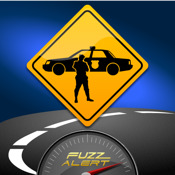 The USA Today ran a major story on this phenomenon last week — "High tech apps help drivers evade police" — basically talking about how cell phone apps can help drivers pinpoint red light camera, speed traps, DUI checkpoints, traffic jams, school zones, and dangerous road areas.
Some police officers and first responders see these new apps as nothing but a negative. For instance, USA Today quoted a Montgomery County, Maryland Police Department Captain, Paul Starks, who said: "If people are going to use those, what other purpose are they going to use them for except to drink and drive… They are only thinking of one consequence and that's being arrested. They are not thinking of ending the lives of other motorists, pedestrians, other passengers in their cars or themselves."
While Captain Starks' concerns may be somewhat valid – after all, one of the apps is called "Fuzz Alert" – the situation may be more nuanced. Indeed, the USA Today article quotes a retired firefighter and a Virginia Beach police officer saying positive things about these new apps. These officers indicate that, by helping increase driver awareness of potential obstacles and hazards, these apps can actually encourage safer driving. Newport News, Virginia firefighter, Dennis Ricketts, recently purchased PhantomAlert himself. He says the device has made him more keen to conditions on the road: "A lot of times when people drive, they're not paying a lot of attention, especially if it's the road you drive on repeatedly…with this, you're a lot more aware of everything that's going on and on things that might be coming up."
Obviously, this blog post is not about to settle the debate. But it's interesting to see that even police officers have mixed reviews about the applications. As with any policy measure, it's important to run scientifically-controlled studies and look at hard data before rendering judgment. Of course, that's easier said than done. As this blog has addressed before, it's incredibly difficult to separate cause-and-effect when looking at driving data – so many factors come into play.
Beyond this technical debate, let's talk a little bit about Pasadena DUI process. The first thing that happens is either you get pulled over at a checkpoint or stopped for a traffic violation. Next, a Los Angeles DUI investigation might commence, during which you will be asked to blow into a breathalyzer device and take field sobriety tests. If the officer has a reason to believe you are DUI, you will be arrested, likely pursuant to either California Vehicle Code Sections 23152 (a) or 23152 (b). Your next step will be to get an attorney to represent yourself – although you can represent yourself without a lawyer. Then you will have to go through the DMV hearings. Then you will arraigned. Next, you will go through the pretrial hearing and motions. In one out of every 25 cases, you will end up at a jury trial. And then you will have to deal with the results after trial.
A Los Angeles criminal defense attorney, like Michael Kraut of the Kraut Criminal & DUI Lawyers (based out of Pasadena at: 790 East Colorado Boulevard, 9th floor, Pasadena, California 91101 Phone: (626) 345-1899) can provide compassionate, experienced, trial-ready service to help you get best results and to get you back on track with your life. Mr. Kraut really knows his business: Not only did he serve for 14 years as a Senior Deputy DA for Los Angeles (during which time he prosecuted many DUI cases), but he also has racked up a superb jury trial record and has won the respect of colleagues, clients, and even the national news media.

f you have been arrested for a DUI in Pasadena or you are under investigation for driving under the influence in Southern California, please contact Los Angeles criminal defense attorney Michael Kraut for 24/7 assistance by phone at (323) 464-6453 or toll free at (888) 334-6344 or online.