Pasadena DUI Newsflash: Look Out for 18-Year Olds Plowing into Parked Cars. Yikes!
Whether you are a pedestrian or motorist, you regularly fear encountering someone driving under the influence in Pasadena. Those fears may get ratcheted up when you read the tale of 17-year old Robert Leigh, an Isla Vista resident who crashed into an unbelievable 8 (that's "eight" as in 1-2-3-4-5-6-7-8!) parked cars on the morning of January 6th up in Santa Barbara.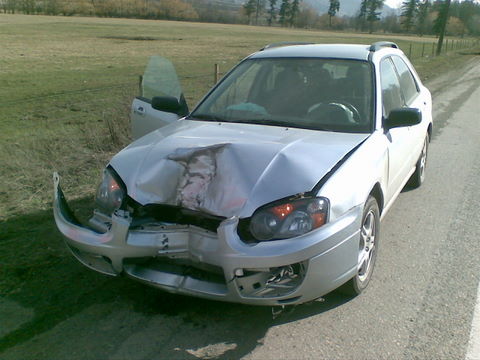 Before we delve into this amazing story, we should note that anyone who has recently been pulled over for driving under the influence in Pasadena, DUI in Burbank, DUI in Glendale, or driving under the influence in Los Angeles should avail themselves of critical legal counsel as soon as possible.
Okay, having said that, let's examine the Leigh crash in more detail. According to California Highway Patrol reports, the teenager had been driving his 2009 Toyota Tacoma on El Colegio Road at 3 a. m., when he drifted into the cars like something out of a pinball game. Here is a quote from a local Santa Barbara paper about it:
"He reportedly drifted to the right, striking one parked car, continued on El Colegio and hit four parked vehicles, then negotiated through the Camino Corto intersection. He allegedly struck three more vehicles before he was stopped by a UC police officer."
Once the CHP arrived at the scene of the multiple accidents, Leigh was booked for DUI and taken to Santa Barbara County jail. Fortunately – and probably this is because the accidents occurred at 3 a. m – no injuries were reported.
No one expects to be involved in a pinball-like Pasadena DUI car accident – especially one with injuries. For good reason, too. California Vehicle Code Sections 23153(a) and 23153(b) will essentially take a typical misdemeanor Los Angeles DUI charge and shoot it up to a felony charge. The difference between a misdemeanor and felony is enormous. It could mean extra years in jail, for instance. It could also mean thousands of dollars more in fines, extremely strict probation terms, longer alcohol school time, and permanent long-term problems for you. For instance, convicted felons often find it extremely difficult to get work and to lease a car or an apartment. You will also be forever prohibited from voting in national elections. Furthermore, you may have to pay hiked up insurance costs and restitution to any victims that you hurt.
The silver lining – if there is any – is that charge of Pasadena DUI with injury is a difficult one for prosecutors to prove. Prosecutors can't simply say that you hurt someone while DUI; thus, therefore you should be convicted. After all, perhaps you had been driving normally (i.e., not committing any traffic infractions) when a pedestrian darted in front of you. Yes, you hit the pedestrian. But it was his fault! So even that you were DUI and did hurt somebody, in this situation, prosecutors would be hard pressed to make the DUI with injury charge stick.
The general point here is that the laws abounds with nuances and subtleties. Thus, it's in your best interest to find someone who has lots of experience with Pasadena DUI law — such as Pasadena criminal defense attorney Michael Kraut. Connect with the Kraut Law Group at 790 East Colorado Boulevard, 9th Floor, Pasadena, California 91101 (626-345-1899). Here are some reasons why Attorney Kraut stands head and shoulders above the competition:
• He is Harvard Law School educated
• He is a former prosecutor with 14 plus years as a Deputy DA for the city
• He has a huge success rate at jury trials
• He has maintained numerous excellent relationships with local prosecutors and judges
• He is often called in as an expert on local and national media to talk about DUI matters
• He offers a compassionate and proven process to help his clients.

If you have been arrested for a DUI in Pasadena or you are under investigation for driving under the influence in Southern California, please contact Los Angeles criminal defense attorney Michael Kraut for 24/7 assistance by phone at (323) 464-6453 or toll free at (888) 334-6344 or online.