Oddball Encounters with Houses Halt DUI Drivers
Some Los Angeles DUI drivers manage to evade police officers who try to stop them. Others collide with other cars but continue on their way missing a fender or a front headline. But when a DUI driver smashes into someone's home, that encounter is usually enough to halt the progress–one way or another.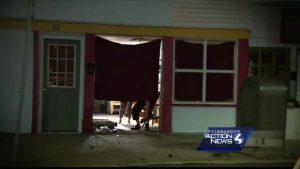 •    In Chesterfield, Virginia, 29-year-old Edward Reid rammed several cars on the evening of Saturday, May 28th, before he hit a house on Sherwood Forest Drive. Although the collision stopped the car, it did not prevent Reid from taking off. Police caught up with the errant driver and charged him not only with DUI but also with hit and run and a misdemeanor drug possession charge.
•    The vehicle driven by Kaitlin Franks of Mt. Washington, Pennsylvania, must be of tougher construction, however. When she broke through the wall of a home on Boggs Avenue in Pittsburgh, the car was still in good enough shape to back out. But Franks did not make it far; residents of the home, awakened by headlights shining into their faces, reportedly jumped in front of her car to prevent her from driving away. Police measured Frank's blood alcohol content at greater than 0.16. She faces not only DUI charges but also charges of recklessly endangering another person and damaging attended property.
•    A collision with a house in Fox Hollow, Nebraska, stopped 32-year old Mindi Boettcher in a different sense. On February 2, Boettcher hit a mailbox and then kept traveling into a brick home, allegedly lodging her vehicle in the brick wall. Boettcher won't be driving her vehicle anytime soon; after the court found her guilty of DUI, the judge revoked her license for 18 months and gave her 90 days house arrest.
Californians who encounter a house after drinking and driving and try to leave the scene face a double whammy. Police may charge them not only with DUI under Vehicle Code 23152 but also with hit and run under vehicle code 20002.
Please call the experienced Los Angeles DUI lawyers at the Kraut Law Group for substantial and skilled assistance with your case and a free, private consultation.