Not So Petty Theft in Southern California Riles up San Bernardino Residents: Skateboarder Snatches Girl Scout Cookie Money
If you tried to design a Los Angeles petty theft crime that would make you look like a classic "bad guy," you'd have a hard time beating this guy.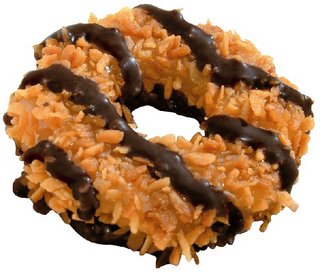 According to NBC Los Angeles, a skateboarder recently stole over $400 worth of cookie money from a local Girl Scout troop that had been stationed outside a grocery store in San Bernardino County. Deputies later stopped and arrested 20-year-old Colin Sawyer, after they saw footage of the theft on NBC4 news.
Girl Scout troop 1303 had been selling cookies outside of a Stater Brothers store in Phelan all day. They were folding up for the day, when the thief snatched their money and took off. A young Girl Scout, who gave her name as Victoria, ran after him. But she fell and got scraped up. She told reporters "My sister put the money on the table, and as fast as he can, he took the money and ran off… my first instinct was to run after him."
A local restaurant gave Girl Scout Troop 1303 20% of their profits to make up for the lost cookie revenue. Since Sawyer allegedly stole over $460 worth of cash, he will likely face a more serious Los Angeles theft charge – not a petty theft charge.
Even if he had "only" taken $100 worth of cash from the Girl Scouts, he'd still be in legal hot water. Even a minor misdemeanor theft conviction can complicate your life. Not only will you have to pay restitution, serve community service, and so forth – and in some cases jail time! – but prosecutors can really bring the hammer down on you if/when you get arrested again.
For instance, if you collect two misdemeanor theft charges separated by a few years, prosecutors can elevate your second charge to a felony and get you thrown in jail for over a year.
Convicted felons lose important rights (such as voting rights), and they may suffer thousands of dollars worth of indirect costs and inconveniences over a lifetime — e.g. increased difficulty getting loans, renting a place to live, et cetera.
To protect yourself against both the short-term and long-term consequences of your Los Angeles petty theft charge, get in touch with attorney Michael Kraut of the Kraut Law Group. Mr. Kraut is an extremely experienced, Harvard Law School educated ex-prosecutor. He and his team can help you develop an effective, comprehensive plan for managing your charges.