Mending Relationships after a Domestic Violence Altercation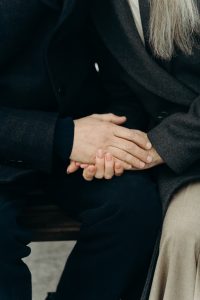 Let's be honest: it's hard to rebuild trust after it's been shattered. Perhaps an argument with your spouse or significant other got out of hand and became physical. Maybe this is the first time it ever happened—and maybe it resulted in your being arrested on suspicion of domestic violence. Whether or not you go to jail—and indeed whether or not you're even charged with a crime—there is now a rift within your family. It can be difficult to know how to move forward.
Your relationship has likely changed forever, and the healing process will take time. And it's not just about a broken relationship with your spouse or partner—domestic violence wounds everyone in the family who is connected to it, in one way or another. What steps can you take to begin repairing the relationship—and even more importantly, what can you do to prevent another domestic violence altercation from erupting in the future?
We'll discuss some specific tips below, but for starters, know that the healing process for your relationship begins with a simple two-fold strategy:
Acknowledging that you have a problem; and
Taking steps to fix that problem.
Whatever actual steps you take, your partner must first see these two things in place before you can begin rebuilding trust. They must see that you know what you did and how it hurt them, and they must see you taking action to keep it from happening again. That being said, let's talk about some specific ways to achieve this goal.
Take Full Responsibility for Your Actions.
It's important to take responsibility for your role in the altercation and apologize sincerely, even if you feel like you were provoked. This doesn't mean that you should take all the blame, but it does mean that you need to fully acknowledge your part in what happened. Whatever started the flare-up, there is never any excuse for violence–so any excuses you try to make will erode trust rather than build it. Own your issues in front of your partner.
Seek Professional Help.
Domestic violence almost never "just happens." There is usually an underlying cause—and possibly several. If you have become violent, aggressive, or abusive, there is a strong possibility that you are struggling with some deep-seated anger issues—and you're likely going to need professional help getting to the root of those issues. There may also be other underlying triggers such as substance abuse or mental health concerns. Seeking professional help not only helps deter violence from recurring—but also shows your partner that you're serious about making a change.
What does it mean to seek professional help? It can be different for everyone, but it may involve any or all of the following:
Attending an anger management course
Talking to a licensed therapist or psychiatrist
Seeking treatment or counseling for substance abuse or addiction
At some point in the process, it may also be beneficial to attend marriage or family counseling together—but don't use this option as a way to share or shift blame. Start fixing yourself first, and let family counseling come into play later in the process, if needed.
Establish Open Communication.
This step may take some time if your partner has taken out a protective order against you because you may currently be forbidden from making contact. But when communication lines can be re-established, it's important to talk honestly and as calmly as possible about what happened and why it happened. This means being upfront about your feelings and needs and being willing to listen to your partner's feelings and needs, as well. Over time, you may be able to understand together the events that led to your altercation so you can take steps to keep them from happening again.
The key to successful communication is to avoid playing the blame game. It's not about who did what and who was right or wrong—it's about understanding each other and working together to move forward in a positive way. Own your mistakes as we discussed above, but otherwise, you need to avoid getting lost in the weeds as to who-said-what-when. That approach is generally unproductive.
Set Some Ground Rules.
If domestic violence has become an issue in your relationship even once, it's important to establish some ground rules going forward to help keep it from happening again. These may include things like:
Identifying "triggers" in each of you and avoiding those triggers. (In other words, stop pushing each other's buttons.)
Learning to argue constructively. (Stick to the issues, and commit to no-name-calling, etc.)
Creating space between you if tensions escalate. (Walk away when tempers flare and "cool off" before resuming.)
Boundaries are a healthy part of relationships, and when domestic violence occurs, it's usually because boundaries were crossed—or there were no established boundaries to begin with. The ground rules you come up with are a way of setting up healthy boundaries.
Make Amends with Others You Have Hurt.
Remember, domestic violence affects the whole family, not just your spouse or significant other. If you have children, they will likely have seen or overheard the violence, and they may be struggling with feelings of guilt, shame, confusion, and fear. If your parents or other family members also witnessed the altercation, they may have been traumatized as well. You need to apologize to all these people, as well. The principles are the same as before: acknowledge your problem and discuss what you're doing to fix it.
Stay Accountable.
Repairing your relationship is ultimately about restoring trust—and accountability is a key element of restoring trust. This means being accountable to your partner, your family, and yourself for the changes you have initiated in your life. Hold up your end of the bargain when it comes to substance abuse treatment, counseling, anger management, and so on. If you cross an established boundary or fail to abide by the ground rules—STOP before things get out of hand and own the mistake. Accountability demonstrates to your loved ones that the changes you've promised to make are genuine—and it also ensures the change itself becomes permanent in your life.
If you've recently been charged with domestic violence or are facing protective orders, we are here to provide compassionate legal help. Call our offices for an appointment today.