Massive Los Angeles Medicare Fraud Bust – Five Suspects Accused of Cheating Medicare of $28 million
Last week, 700 FBI and Health and Human Services agents rounded up 111 suspects in nine cities – including five people suspected of Los Angeles Medicare fraud – in the "largest-ever Federal health care fraud takedown" in the United States, according to government officials. The Los Angeles Times reports that five LA defendants "cheated the government out of more than $225 million in false billing schemes that included fraudulent claims, kickback operations, money laundering and identity theft."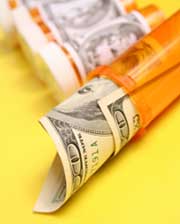 A spokesperson for the Justice Department's Criminal Division, Assistant Attorney General Lanny Breuer, said "our message is clear… we are determined to put Medicare fraudsters out of business."
The Justice Department's task force has really revved up, since its inception in early 2007. So far, nearly 1,000 people have been charged for false billing schemes – approximately 75% of these people have been convicted. The average prison sentence has been quite substantial – 43 months (more than 3.5 years). In 2010 alone, national, state, and local task forces raked in about $4 billion in fines and recovery payments.
A February 17 L.A. Times article summarized the situation this way: "The charges brought Thursday run the gamut of offenses. Some are accused of submitting claims to Medicare for treatments that were medically unnecessarily or never provided. Some are suspected of recruiting patients for hospitals and doctor's offices, and then pocketing lucrative cash kickbacks." A Detroit area podiatrist charged Medicare for toenail removals that never occurred. In addition to Los Angeles Medicare fraud busts, authorities made arrests in Dallas, Miami, Baton Rouge, and Brooklyn, New York.
Given the government's crack down on crimes like Southern California insurance fraud, Los Angeles credit card fraud, and Southern California white collar crimes, defendants need to pay attention to their rights and identify resources to help them respond judiciously to charges.
An experienced Los Angeles criminal defense attorney, such as Michael Kraut of the Kraut Criminal & DUI Lawyers, can bring to bear an arsenal of strategies and resources to guide you through the legal maze. Attorney Kraut is an ex-prosecutor who has dealt with many sophisticated Los Angeles white collar crime cases, and his amazing success rate at jury trials (99%) and deep connections with (and abiding respect from) local prosecutors and judges should encourage any prospective clients – even clients facing difficult and complex charges.