Los Angeles Medicare Fraud Stories Roll On, Even as IMF Chief Sits in NYC Jail
Last week, while most of the blogosphere zeroed in on the salacious accusations against International Monetary Fund's chief, the news on the Southern California Medicare fraud front was not exactly silent.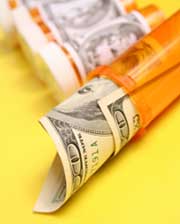 Indeed, a May 14th article in the Wall Street Journal ("Medicare Fraud Nets Guilty Plea") has had a lot of pundits and analysts debating the implications. A Brooklyn physical therapist, Alexander Kharkover, plead guilty the Friday before last in Federal Court to five counts of submitting false/fraudulent claims to Medicare. For a five-year period (from January 2005 to July 2010), Kharkover allegedly overbilled Medicare to the tune of nearly $12 million, and Medicare paid $7.3 million worth of those claims.
Mr. Kharkover pled guilty without trying to arrange a plea deal. He has yet to be sentenced. Here is an interesting quote from the WSJ about the matter: "According to a person familiar with the case, in one instance, Mr. Kharkover allegedly submitted a bill for a service he performed personally, but on a date when he was on vacation cruise."
Anyone who has been charged with a Southern California white collar crime, Los Angeles insurance fraud, or a somewhat related crime, like Southern California identity theft, may be quickly and roundly excoriated in the press as a villain, even if your case is complicated and extenuating arguments might explain your actions (or failure to act).
Unfortunately for white collar crime defendants, the public is in a relatively tenacious mood. As the national economy continues to lag, the public appears to be less and less tolerant of what it perceives to be "crimes of the rich." Meanwhile, the federal government has cranked up its anti-fraud programs, and the experience of defendants like this Brooklyn healthcare provider can often be scary, lonely, and overwhelming.
A Los Angeles criminal defense attorney, like Michael Kraut of the Kraut Law Group, (6255 Sunset Boulevard, Suite 1520, Los Angeles, California 90028), can give you insight and practical help. Mr. Kraut has a stellar record at jury trials, a great reputation within the legal community, and lots of experience as a former prosecutor he draws upon to help his clients get excellent results.
Yes, it can be scary to be charged with multiple fraud counts, especially if you know that you did something wrong. But the quality of your legal representation can have a dramatic influence on your potential penalties and your ability to put the arrest behind you and get back to living your life and running your business.