Los Angeles Medicare Fraud News Blotter: Chicago Man Indicted in $20 Million Scam
If you or someone you care about has recently been arrested or indicted for Southern California Medicare fraud, you have company.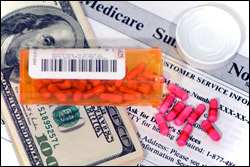 As this blog regularly reports, government investigators are cracking down, big time, on entitlement fraud across the country. One of the biggest news stories on this front came out of Chicago last week: 43-year-old Jacinto Gabriel, Jr. was indicted in connection with a $20 million scam to defraud Medicare. Gabriel, Jr. owned a variety of businesses, including Perpetual Home Health, Incorporated and Legacy Home Healthcare Services. He submitted millions of dollars in false claims for services never delivered (or price inflated or medically unnecessary services).
Allegedly, Perpetual Home Health, Inc. – by itself – submitted 14,000 different claims between the middle of 2006 and early 2011 and collected $38 million in payments from Medicare. This made it one of the biggest recipients of Medicare funds in all of Illinois. Gabriel, Jr. allegedly used the money he collected from Medicare to gamble, buy automobiles, purchase real estate at home and abroad, provide kickbacks and gifts to physicians for patient referrals, and more.
One can only speculate about the potential punishments that Gabriel might face, including jail time, a destroyed reputation, massive fines and forced reimbursements to victims and to the government, and other problems.
If you or someone you care about has been charged with a similar kind of Southern California Medicare fraud, Los Angeles insurance fraud, or Southern California white collar crime, you might be extremely fearful of the long jail sentence, massive fines, and destruction of your professional and personal reputation.
The question is: What do you do now?
A Los Angeles criminal defense attorney, like Michael Kraut of the Kraut Law Group, can help you understand your current reality and face down the challenges heading your way. It's not resourceful to deny your situation or wait to get help.
The sooner you acknowledge the charges against you — identify the outcomes you want to avoid and outcomes you want to achieve — the easier it will be to map out a strategy to get you to where you want to be. Your success or failure can hinge on the quality of your legal representation. Attorney Michael Kraut is an extremely experienced defense attorney – he's also a very successful former prosecutor, and he taps into his prosecutorial knowledge and relationships to help his clients get the results they need.