Los Angeles Medicare Fraud Conviction Nets L.A. Physician's Assistant 6 Years in Jail
50-year-old David James Garrison was sentenced to 72 months behind bars last week for his involvement in a Los Angeles Medicare scam that bilked the federal government out of nearly $19 million. On top of his lengthy jail term, Garrison was ordered by a U.S. District Judge to pay nearly $25,000 in restitution to several defendants.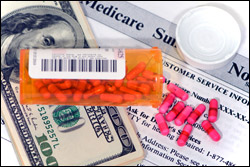 The charges concerned Garrison's involvement in a Los Angeles Medicare fraud scam that ran from early 2007 through the fall of 2008. Garrison and other co-conspirators, including Edward Aslanyan, operated a sophisticated shell game. The scam had many "threads." One of the biggest money makers involved a scheme to recruit Medicare beneficiaries to write and collect prescriptions for power wheelchairs. Garrison and his conspirators resold these ill begotten wheelchairs to wholesalers at an enormous markup. For instance, they might have paid $900 for a wheelchair and billed Medicare for $5,000 for it. Garrison was also involved in writing illegal prescriptions and ordering fraudulent diagnostic tests for at least six different L.A. doctors.
A federal jury convicted Garrison in June on six counts of Los Angeles healthcare fraud, one count of aggregated identity theft, and one count of conspiracy to commit medical fraud in Southern California.
The long road back to respectability
If, like Garrison, you stand accused of orchestrating or just participating in a dynamic, sophisticated healthcare scheme, you might fear not only for your freedom and pocketbook but also for your future. How can you possibly "save face," given the charges you face and given the potential punishments in the offing for you? Moreover, is it even possible to save your professional reputation and/or license to practice dentistry, medicine, chiropractic, etc?
It's futile to try to answers these questions in a vacuum.
Your legal defense options hinge on multiple, subtle factors, some of which you might be aware of and some of which might be under your radar. Fortunately, the team here at the Kraut Criminal & DUI Lawyers in Southern California has extensive experience assisting defendants like you with strategic Los Angeles criminal defense. Get in touch with attorney Kraut and his team today to go over the options and opportunities for you to make amends and to minimize the damage to your career, finances, and future.