Los Angeles Medicare Fraud Alert – The Government Spent $250 Million on Penis Pumps. Wow.
If you've been investigated arrested for a crime like Southern California Medicare fraud or Medi-Cal fraud, you likely feel under the gun. Prosecutors, "independent" observers and even friends and family members may judge you for damaging our social safety net.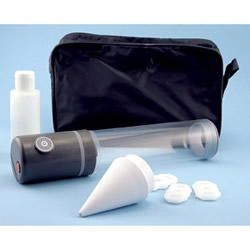 Whether you committed a serious crime or not – or a series of crimes, including Southern California insurance fraud, Los Angeles identity theft, or other Los Angeles white collar crimes – you might find it helpful to put your situation in perspective.
Consider, for instance, a new report by the Heartland Institute, which found that the federal government spent over $250 million on penis pumps over the past 10 years!
A Dodge City, Kansas-based company that makes these pumps was recently hit with a $4.2 million penalty for submitting possibly fraudulent Medicare claims. The auditors want Pos-T-Vac to pay the government back ASAP. They cited the manufacturer for submitting improper documentation in over 50% of pump payment submissions.
Per the auditors' calculation, that means that over 14,000 claims for pump billings were likely non-compliant with Medicare documentation needs. Investigators said that "Pos-T-Vac submitted unsupported claims because it lacked adequate internal controls to ensure that it collected and maintained the required documentation."
This case is interesting because of its subtlety.
It seems like the company was more disorganized than scheming. But the situation illustrates nicely how even small logistical errors in your business processes can lead to serious charges and potential jail time, if you are not careful about how you follow up and correct the errors and omissions.
Given how complicated the Medicare system can be – particularly if you and/or some associates intentionally or unintentionally violated the law – you need to be very careful about what you do going forward to maximize your chances of a strategic defense.
Attorney Michael Kraut at the Kraut Law Group of Los Angeles is a former city prosecutor who spent a substantial part of his career (14 plus years) as a state prosecutor.
Now, working in the capacity of defense attorney, Attorney Kraut utilizes his knowledge of prosecutorial philosophy and tactics to deliver excellent results for his clients and help them get a 360 degree picture of what they face and what their options might be.