Los Angeles Lewd Conduct News – 19-Year-Old Kaitlyn Hunt, a Lesbian Cheerleader, Faces 15 Years in Jail for Having Sex with 14-Year-Old Girl
Most Los Angeles lewd conduct cases are "drama-filled," but odds are that your scary legal situation has gotten nowhere near as much press as Kaitlyn Hunt's has.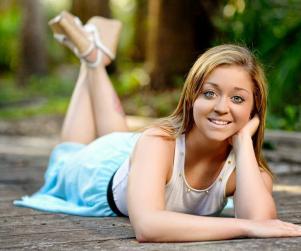 The 19-year-old Florida cheerleader has been jailed (again), after having sex with her 14-year-old girlfriend.
Authorities first arrested Hunt back in February and told her to stop contacting her 14-year-old girlfriend, after the girl's parents told the police. However, Hunt continued to text with the girl – sending approximately 20,000 texts! – and continued seeing and having sex with her. (She also allegedly gave her girlfriend an iPod.)
Prosecutors had offered Hunt a plea deal that would have allowed her to escape prison time but would have required her to register as a sex offender. But based on the new allegations, prosecutors have dropped the plea deal.
Hunt's initial charges included two counts of lewd and lascivious battery. In Florida, if you're over 18, you can't have sex with anyone younger than 18.
Hunt's case has sparked massive media attention, in part because the 19-year-old is gay. Hunt's fans argue that the young girl's parents only tipped the authorities off because of the lesbian nature of the relationship.
The texts between Hunt and her girlfriend suggest that they both knew what was going on.
Hunt sent her girlfriend a text message in May telling her not to tell anyone about their liaison. Otherwise, "I'll sit in jail until trial starts… if they find out we talked, I am going to jail until trial starts."
When Hunt found out that the girlfriend had told her parents that they were still in contact, she texted her back "f**k you … you are stupid … you want me to go to jail … you are such a messed up person … you snitched on me. God only knows what you'll do when pressed in court. Bye."
Kelley Smith, Hunt's mother, eventually found out about what was going on. But instead of alerting authorities, she apparently tried to cover up her daughter's actions — an act that could make her criminally liable as well. In one text message, Smith wrote to the girlfriend: "delete EVERYTHING … PLEASE delete everything and make sure NO ONE finds out you have spoken to Kait at all."
If convicted of all charges, Hunt could face 15 years behind bars on top of additional penalties for disobeying the terms of her bond. Over 300,000 people (as of May) had signed an online petition to get Hunt's charges dropped.
If you've been charged with lewd conduct in Los Angeles, you probably have substantial sympathy for Kait's plight. Fortunately, you can build a vigorous, substantive defense and protect your rights. Connect with attorney Michael Kraut of the Kraut Law Group today to strategize your defense.
Mr. Kraut is an ex-prosecutor who worked for the city for over 14 years; he knows how prosecutors work and how they think. Tap his experience, resources and connections to put up a vigorous defense to your Southern California lewd conduct charges.

If you have been arrested for a crime in Beverly Hills, please contact Los Angeles criminal defense attorney Michael Kraut for 24/7 assistance by phone at (323) 464-6453 or toll free at (888) 334-6344 or online.