Some Los Angeles DUI Crashes Are Worse Than Others – This One Involved Seven Vehicles!
Many people think about Los Angeles DUI accidents or incidents in a monolithic fashion. In other words, a DUI is a DUI.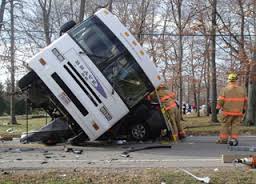 However, as anyone who has dealt hands on with these types of cases can tell you, DUIs are incredibly diverse. For instance, some incidents involve people who are just on the cusp – who have never committed even a traffic violation before. Others involve serial recidivists who clearly engaged in reckless, negligent or outright stupid behavior who have hurt people.
In other words there is a huge range.
The question is: how can you tell whether your particular DUI situation will be a severe and complicated one or a relatively simple one?
One way to distinguish between these two outcomes is to look at the number of cars involved in a particular accident.
To that end, let's take a look at a nasty accident in Coronado that involved seven (7!) vehicles. According to local authorities, a 52-year-old man in a Winnebago hit seven different vehicles on Orange Avenue last Thursday night. Police arrived on the scene near Bank of America around 7:30 pm, near to where one of the hit and run crashes occurred. Six other vehicles were hit on the 900 block of Northbound Orange. Sergeant Shawn O'Neill of the Coronado Police said police arrested the driver five blocks from the scene. Even though the Winnebago did hit a taxi with people in it and pushed a car onto the sidewalk, miraculously, no one got hurt.
The police said the only occupants of the Winnebago were a 52-year-old man and a dog.
Obviously, such an accident can lead to a complicated insurance situation. For instance, this accident will almost certainly generate tremendous insurance paperwork.
What can you do if you caused a multi-car crash and police arrested you on suspicion of driving under the influence of alcohol or drugs or prescription medications?
The first step is to contact a qualified Los Angeles DUI defense lawyer, like Michael Kraut of the Kraut Law Group. Mr. Kraut has nearly two decades of experience working as both a prosecutor and defense attorney; he can help you understand your rights and options and develop a strategy that makes sense to achieve your outcomes.
Did police stop you for driving under the influence in Los Angeles? Contact DUI defense attorney Michael Kraut for assistance at (323) 464-6453 or online. We're located at 6255 Sunset Boulevard, Suite 1520, Los Angeles, California 90028.