Cake Boss Celebrity Busted on DUI Charges
Los Angeles DUI charges involving celebrities inevitably attract ridiculous amounts of attention from the press and from the lay public – and for understandable reasons.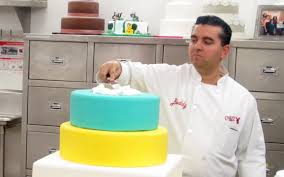 We look up to celebrities, even if they became famous because of bad behavior or brash, outstanding opinions. Celebrity DUI arrests also force us to reflect on our status, since we often pin our hopes, dreams, fears and expectations on famous people with larger than life personalities.
In that light, let's take a look at the recent DUI arrest of Buddy Valastro, much better known as the "Cake Boss." According to reports from CBS New York, police arrested Valastro for DUI in Manhattan last Thursday morning, after officers saw him swerve in his yellow 2014 Corvette near 10th Avenue. Police pulled him over and said that Valastro exhibited symptoms typical of DUI, including bloodshot eyes and the odor of alcohol on his breath.
According to an Assistant DA, who is dealing with the case, Valastro told police "you can't arrest me! I am the Cake Boss!" And he also apparently asked them for lenience: "can you just put me in a cab? I don't have to be arrested. I am not a bad guy."
Officers say that he failed a field sobriety test, which likely included tests similar to the ones used here in Southern California, such as walk the line test, finger to the nose test, count backwards by threes test, stand on one leg and balance test, and so forth.
Authorities hit him with two counts of DUI. He later released a statement: "please know that I want to share and explain to you what happened today and I look forward to doing so at a later date."
In addition to starring on TLC's "Cake Boss" reality show, Valastro owns bakeries in Los Vegas, Queens, Manhattan and New Jersey. Valastro is due back in court on January 2015; this was his very first offense.
When you read stories like this in the news, you might instantly assume that Valastro was guilty (or likely guilty) because he allegedly failed the field sobriety tests and exhibited so called symptoms of DUI. But as we've touched on many times, those tests can lead to false positives. For instance, you can fail sobriety test because you are tired, confused, or just nauseous and sick. Likewise, you can exhibit symptoms of DUI because you are on a ketogenic low carb diet… although it's probably unlikely that the Cake Boss has been eschewing all carbohydrates.
For help exploring your potential defense options, call Mr. Michael Kraut of the Kraut Law Group today to schedule a complementary and confidential consultation with an experienced Los Angeles DUI criminal defense lawyer.
Did you get arrested for a DUI in Los Angeles? If so, contact Los Angeles criminal defense attorney Michael Kraut for assistance by phone at (323) 464-6453 or online. We're located at 6255 Sunset Boulevard, Suite 1520, Los Angeles, California 90028.