Completely Bizarre Southern California DUI Stories (and stories from elsewhere in the U.S.)
Most Southern California DUI cases involve simple roadside stops or failures at sobriety checkpoints. These stops tend to be no-drama affairs — perhaps involving someone driving under the influence in Burbank with a BAC of 0.09% following a night out at a bar in the town center.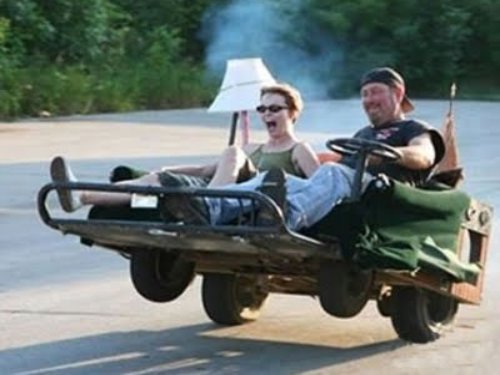 But every once in a while, truly bizarre DUI arrests occur. The website TruTV.com recently put up an amusing catalog of notoriously strange DUI arrests. These include:
o Afredo Martinez of Reno, who allowed his 7-year old son to get behind the wheel;
o Tina Williams, who continued to drink beer in front of the police while being questioned about driving DUI — all while a 16-month year old infant was in her car!
o Lynn Bailey, who got pulled over in Florida while wearing a shirt that read "I'm Not an Alcoholic. I'm a Drunk. Alcoholics go to meetings."
o A Reno woman named April Westfall, who had been driving around with six feet of gas station hose sticking out of her tank when she got pulled over for suspicion of DUI.
Other bizarre stories of Southern California DUI (and DUI elsewhere in the US) include:
o A husband who pulled over his own wife for DUI;
o A father jacked up on cocaine who allowed a 10-year old boy to drive his vehicle — the 10-year-old crashed the car at over 100 miles per hour;
o A woman named Terri Comer, who passed out behind the wheel of her Toyota with a BAC of a mind-boggling 0.72% (9 times the legal limit for a Southern California DUI) — right next to a flashing road sign lit up with the words "don't drink and drive."
As amusing as these accounts of bizarre arrests may be, they demonstrate just how helpless many drivers are to control themselves and their behavior. When someone drives under the influence in Beverly Hills or Glendale, that person puts others at risk. What's more, punishments for DUI with injury can be far more severe.
Consider that most DUI stops lead to charges under either California Vehicle Code Section 23152(a) or 23152(b) but that DUI injury is charged under two separate statutes, 23153(a) and 23153(b). These other statutes stipulate that standard misdemeanor DUI charges can be inflated to felony counts if a DUI driver hurts another person. The severe punishments could entail lengthy prison sentences, forced restitution to a victim (or a victim's family), major court fines, loss of a right to vote, loss of a job, and so on.
That said, just because someone drives DUI in Glendale and gets into an injury accident doesn't necessarily mean that he or she will be charged under 23153(a) or 23153(b). To make a case, prosecutors must show that the driver violated a traffic law or in some other way behaved with negligence — and that this behavior caused an accident, which in turn caused an injury. In other words, say you were DUI in Glendale and you hit another car, causing injury. If the other driver was solely responsible for the accident — for instance, if his vehicle suddenly swerved into your lane — you likely will not be hit with the tougher charges, although you likely will still face charges under 23152(a) and/or 23152(b).

To sort out your best defense, connect with attorney Michael Kraut of the Kraut Criminal & DUI Lawyers in Los Angeles. As a former prosecutor and Harvard Law School student, attorney Kraut has both the knowledge and the legal acumen you need to build a topnotch defense.
If you have been arrested for a DUI in Glendale or you are under investigation for driving under the influence in Southern California, please contact Los Angeles criminal defense attorney Michael Kraut for 24/7 assistance by phone at (323) 464-6453 or toll free at (888) 334-6344 or online.