Burbank DUI Drivers and Other Hazards: How to Handle Southern California's Wild Freeways
From Burbank DUI drivers to debris in lanes to ferocious traffic snarls, Southern California's freeways present a gallery of challenges to drivers. Here's a quick guide to the obstacles we frequently encounter thanks to our tangled freeway system.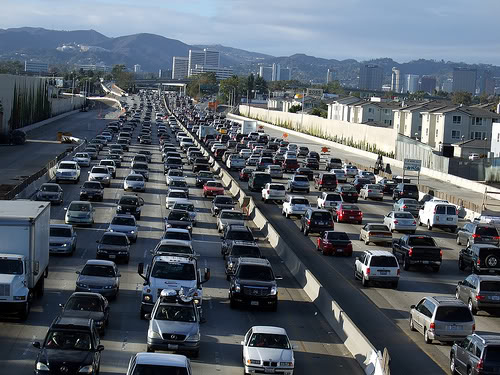 Rush-hour gridlock from 6 AM through 9 PM… and often on weekends.
The massive, never-abating congestion on freeways like the 10, the 405, and the 101 (but not the 90!) causes much consternation to newbie drivers. Whether you join the queue at six in the morning on the way to work; or you encounter a surprise snarl at 9 PM on a Sunday, be forewarned that stop-and-go traffic can be quite treacherous. Obviously, it's hard to get into a serious injury accident going 5 mph. But when traffic thaws – after an obstacle is removed from the road, for instance – conditions can become quickly fluid, and accidents can easily occur. Just like a melting glacier presents challenges to hikers walking on top of it, so can a flowing traffic jam be extra dangerous to cars caught in the middle of it. So when the traffic breaks up, be on extra alert.
Freeways at night can turn into grand prix racing grounds.
The 405 is not always packed with cars, contrary to the impressions of daily commuters. At night, Southern California's capacious freeways empty out. This attracts a different kind of hazard — the speedster. As reported on our Southern California DUI blog, a local television actor (Adrian Pasdar) was arrested just last week for driving 94 mph on the 405 near Santa Monica Blvd. DUI drivers, careless drivers, bad lighting, and highway maintenance projects can turn freeways into veritable obstacle courses.
Distractible drivers.
Southern Californians have an ongoing (and unfortunate… for many reasons) love affair with the cell phone/personal digital assistant. Driving while texting or talking on a cell phone can be hugely problematic — perhaps even more dangerous than driving under the influence in Southern California. A recent study found that California's anti-cellphone-while-driving law has not resolved the problem — perhaps because the law required only that drivers speak on headsets instead of requiring that they refrain from talking on the phone altogether while driving.
In any event, by paying extra attention to the road — and not yapping on the cell phone, getting distracted by billboards or local celebrity sightings, or sightings of paparazzi spotting local celebrities — you can hopefully mitigate some of the risks posed by other distracted drivers.
Understand the penalties for driving under the influence in Burbank and elsewhere in Southern California.
Many people think that getting a first-time DUI is akin to getting a speeding ticket. But a DUI is no mere infraction. According to the law, even a first-time DUI offender can be charged with a misdemeanor — or even a felony, depending on the circumstances. If you're convicted of even a misdemeanor Burbank DUI, the court can impose a crushing array of penalties including but not limited to:
* minimum of 48 hours in jail (two full days)
* court costs and fines of potentially thousands of dollars
* mandatory alcohol school in probation
* suspension of license for a full year
* pursuant to a law that went into effect on January 1, first time DUI offenders must install an interlock ignition device (IID) in their vehicles. This means that you must blow into a Breathalyzer-like device every time you want to start your car.
Obviously, the punishments for driving DUI in Burbank are unpleasant, to say the least. But what can you do if you or a loved one has been arrested and charged?
There are many wrong paths to take. If you lack knowledge of how the court system processes Southern California DUIs, you could easily take one of these inferior paths and compromise your future. Fortunately, good help is available.

For instance, attorney Michael Kraut of the Kraut Criminal & DUI Lawyers provides experienced, trustworthy assistance for defendants. Attorney Kraut spent many years working as a prosecutor prior to helping defendants. He uses his encyclopedic knowledge of prosecutorial strategies to craft elegant and inventive defenses for his clients.
If you have been arrested for a DUI in Burbank or you are under investigation for driving under the influence in Southern California, please contact Los Angeles criminal defense attorney Michael Kraut for 24/7 assistance by phone at (323) 464-6453 or toll free at (888) 334-6344 or online.