Burbank DUI Defense Saga – Lessons from the Extravagant, Ridiculous Tale of Toronto Mayor Rob Ford (Part 1)
As someone who has been charged with DUI in Burbank (or elsewhere in Southern California), you're probably feeling pretty nervous about your future.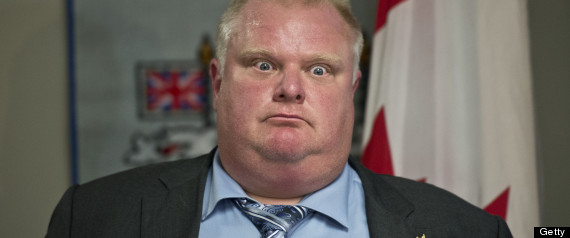 • Will you lose your license or your job?
• Will you go to jail?
• Will you need to spend months attending classes or doing community service?
• Will your auto insurance go through the roof?
But some folks who get charged with serious crimes, like DUI in Burbank, are not that phased. For an extreme example, consider the astonishing case of Toronto Mayor, Rob Ford. The local city council recently stripped him of his mayoral powers, after video surfaced showing him smoking crack cocaine. During a televised meeting, Ford aggressively pushed over a 90 pound woman, while rampaging around a community center.
Notwithstanding, Mayor Ford's approval rating among Torontans remains a solid 42% — two points higher, in fact, than President Obama's current 40% approval rating.
You read that right: a mayor who literally smoked crack cocaine while in office and shoved an elderly female state official is more popular than our president.
Two out of five Torontans approve of the job he is doing.
Ford boasted to Fox News journalist, Bill O' Reilly, that he believes voters will reelect him in October 2014 to a second term. Mayor Ford's other scandals include nearly a bakers' dozen worth of sexual harassment claims.
The following exchange from FOX News reported speaks volumes about the whole situation:
"'Did I go out and party sometimes? Yes. I'm only human,' Ford said.
Watters responded: "You party a little harder than most people."
"I wouldn't say that," Ford said.
"Most people wouldn't smoke crack when they party," Watters replied.
"On Friday night, if I know I have nothing planned the next day, yeah, I'll drink, I'll have a big party," Ford said in the tightly-edited video which saw Ford sweating profusely and gulping down water."
Unsurprisingly, Ford has become cannon fodder for Late Night talk show hosts and comedians. But his situation speaks to the complexities that face many defendants in Burbank DUI cases. It's hard to know how to respond, when you've been caught doing something that, in retrospect, was foolish or irresponsible.
To make sense of your case, connect today with a Burbank DUI defense lawyer with the Kraut Law Group. Mr. Kraut is an experienced, aggressive ex-prosecutor with a wealth of experience battling charges that like the ones you're facing.

If you have been arrested for a DUI in Burbank or you are under investigation for driving under the influence in Southern California, please contact Burbank criminal defense attorney Michael Kraut for 24/7 assistance by phone at (818) 563-9810 or toll free at (888) 334-6344 or online. We're located at 2600 West Olive Avenue, 5th Floor, Burbank, California 91505.