Boxer's DUI Arrest Filmed on Police Dash Cam
It wasn't long ago that a celebrity arrested for a DUI in Los Angeles might loudly proclaim his or her innocence. Fans might read about the officer's report and/or the results of a blood alcohol test, but they were likely to give the celebrity the benefit of the doubt, because they hadn't seen for themselves what had happened during the arrest.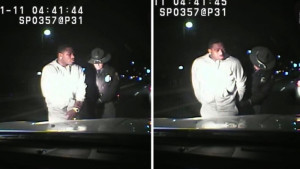 Now fast forward to the age of police dash cams and people recording video on their mobile devices. It's become a lot harder for celebrities to assert that they weren't driving under the influence when a recording of the incident becomes the latest online video hit.
Just ask American professional boxer Adrien Broner. On January 11th, police in Sharonville, Ohio, arrested him on an a charge of OVI (operating a vehicle under the influence). Broner was driving a 2014 white Mercedes Benz when an officer noticed him driving down the middle of two lanes and traveling 50 miles per hour in a 25 miles per hour zone. She pulled him over, and her dash cam recorded the events.
According to TMZ Sports, which obtained a copy of the video, Broner can be heard slurring his words during their initial conversation. He at first refused to get out of his car, and couldn't pass the field sobriety test. But Broner is mostly polite during the proceedings, at one point telling the cop, "I love you." He also informs the officer that he's blessed because he's made more than $100 million dollars during his career.
That's good, because Broner may have to pay a driver for a while. He refused to take a breathalyzer test, which could mean he loses his license for a year. The boxer has pleaded not guilty to the OVI charge and asked for a jury trial.
Locating a seasoned and qualified Los Angeles DUI defense lawyer is a critical part of the process of reclaiming your life, your time and your peace of mind. Call ex-prosecutor Michael Kraut for a free consultation right now.
Did you get arrested for a DUI in Los Angeles? If so, contact Los Angeles criminal defense attorney Michael Kraut for assistance by phone at (323) 464-6453 or online. We're located at 6255 Sunset Boulevard, Suite 1520, Los Angeles, California 90028.