Another Los Angeles DUI Bust for Paris Hilton? Not Quite – This Time It's Cocaine in Vegas
Celebutante Paris Hilton's 2006 Los Angeles DUI made headlines around the globe. The billionaire heiress was sentenced to 45 days behind bars for violating her probation, and she served her jail time on June 3, 2007 – just after she finished attending the MTV Movie Awards. Her subsequent release on June 26, 2007 attracted hoards of paparazzi and other star watchers and turned her Los Angeles DUI event into one of the stories of the year.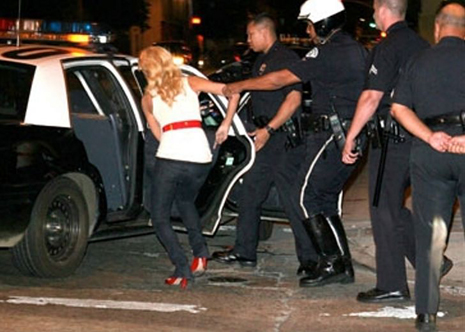 Although Ms. Hilton attempted rehabilitation, this summer has been pretty rough for her. During the World Cup in South Africa, Hilton got detained by local authorities for allegedly possessing marijuana – she was later exculpated when authorities discovered that another person in her coterie had been smoking. More recently – on August 27th – Hilton got busted for cocaine possession in Las Vegas near the Wynn Casino. Paris had been a passenger in a Cadillac Escalade driven by her boyfriend, Cy Waits, who got pulled over by the police. As Hilton waited, she removed lip balm from her purse, revealing a small but not insignificant amount of cocaine right in front of the officer. Hilton was booked for cocaine possession at the Clark County Detention Center and released the next day. Her boyfriend, Waits, got charged with driving under the influence of drugs and/or alcohol (allegedly marijuana).
According to California Vehicle Code section 23152 (a), if you drive under the influence of drugs or alcohol in Burbank (or wherever in California), you can be charged with a significant crime. The drugs can be illegal – e.g. cocaine or marijuana – or even over-the-counter prescription drugs. Although an officer will not likely give you a breathalyzer test for a Burbank DUI drug case, you may be asked to submit a urine or blood sample to be chemically analyzed.
Although all Los Angeles DUI drug cases are serious – and penalties can include everything from jail time to mandatory drug and alcohol classes to suspension of driving privileges – a qualified and experienced Southern California DUI attorney can often break down the prosecution's case against you. For instance, the so-called science used to identify someone as under the influence of drugs can be attacked using a number of different strategies and tactics.

Attorney Michael Kraut of Los Angeles' Kraut Criminal & DUI Lawyers can provide expert guidance to build your best possible defense. Attorney Kraut spent 14 plus years serving as a city prosecutor (Senior Deputy District Attorney), and this Harvard Law School educated lawyer not only understands from a practical point of view how to build good defenses for DUI clients, but he also has the respect of the legal community – including judges and prosecutors – and he uses his connections to good effect to help his clients get rehabilitated and back on their feet.
If you have been arrested for a DUI in Burbank or you are under investigation for driving under the influence in Southern California, please contact Los Angeles criminal defense attorney Michael Kraut for 24/7 assistance by phone at (323) 464-6453 or toll free at (888) 334-6344 or online.