A Sad (But Stunning) Conclusion for Suicidal Los Angeles Lewd Conduct Defendant
A dramatic car chase on a Southland freeway ended with the arrest of a 51-year-old phys ed teacher accused of lewd conduct in Los Angeles.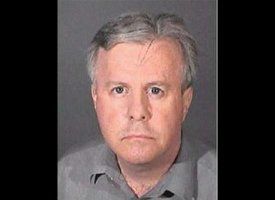 Late last Tuesday afternoon, 51-year-old Kip Arnold, eight-year veteran of a Southeast Middle School in South Gate, was approached by police officers, who were prepared to arrest him for committing lewd acts with a former student. (Investigators say that the student was female and that there might have been multiple other victims).
Rather than co-operate, Arnold told the officers "I'm not stopping; I'm suicidal." Then he rolled up his window and hit the gas. He fled his Lakewood home onto the freeways, forcing the California Highway Patrol to shut down both the 405 and the 110. Eventually, Arnold got off PCH in Wilmington and drove west. CHP officers diligently pursued and eventually stopped him using something called a Pursuit Intervention Technique (PIT) maneuver.
The footage of the PIT maneuver made the news on CBS2 and KCAL9. Officers forced his truck to turn sideways, slamming him into a big rig. Amazingly, however, even the PIT maneuver didn't stop Arnold. The teacher sped off at a high speed and flew down a grassy embankment, before smashing into a tree at the bottom of the hill. Humiliatingly, Arnold was trapped in his vehicle for 30 minutes after the crash. Rescue crews finally extracted him and took him to the hospital. His car and the building he hit were both significantly damaged.
Not the best way to respond to your Los Angeles lewd conduct or sex crime charge!
If you or someone you care about is facing similar charges, you can understand the panic and anxiety and depression that Mr. Arnold likely felt. It's important to be strategic — and, above all else, legal! — in how you proceed.
Forget about the lewd conduct charges for a second. Mr. Arnold now faces a whole new rainbow of legal problems due to his untoward evasive techniques.
Rather than panic and do other dumb things that could compromise your defensive strategy — and net you extra years behind bars — connect with the team at the Kraut Criminal & DUI Lawyers in Los Angeles for an immediate, personal, and confidential legal consultation. Attorney Kraut is no stranger to complex, difficult cases. He can provide an appropriate, savvy legal defense strategy to maximize your chances and minimize the potential punishments in your future.