Zombie and Hello Kitty Arrested For DUI [Zombie Twice In One Night!]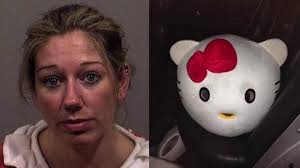 As Halloween approaches, spooky Los Angeles DUI stories are bound to start hitting the presses.
Sure enough, two ridiculous and sad tales just popped over the past week. The first involved 26-year-old Catherine Butler, a Rochester, New York woman who earned internet notoriety after police arrested her twice in the span of just three hours for driving under the influence.
Police originally stopped her at around 2 in the morning after noticing that her car didn't have its headlights on. Per WHEC in Rochester, officers took Butler to the police station for her mugshot and subsequently released her. Less than three hours later, at 4:57 a.m., police allegedly spotted Butler swerving all over the road and arrested her again. By this time, she had cleaned up her zombie makeup. So her second mugshot was normal. But according to authorities, her blood alcohol concentration tested above the 0.08% limit for DUI both times. (The NY limit is identical to the one here in Los Angeles, as defined by California Vehicle Code Section 23152.)
Meanwhile, up in Maine, police arrested non other than Hello Kitty herself for DUI.
Authorities said that 37-year-old Carrie Gipson of Westbrook, Maine had been driving in the wrong lane while wearing a Hello Kitty costume. Police say she refused to take a breathalyzer test. They took her to Cumberland County jail, where she posed for a mugshot in her Hello Kitty costume (sans the giant Hello Kitty head).
Whether you're in costume or out of costume, authorities do not take DUIs lightly. Nor do they tolerate multiple arrests lightly. In fact, if you are convicted three times for DUI within a 10-year span (never mind a three-hour span), prosecutors can charge what normally would be a misdemeanor as a felony, meaning that you could spend over a year behind bars for a crime that ordinarily would only put you behind bars for a few hours or few days. In addition, a felony conviction can strip you of your right to vote, leave you with a permanent criminal record, and subject you to far more intense prosecutions if you're ever arrested again for other crimes.
An experienced Los Angeles DUI defense attorney with the Kraut Law Group can help you understand the extent and scope of your troubles and help you develop an intelligent, effective plan to get your life back on track. Attorney Kraut is an ex-prosecutor (Deputy District Attorney for Los Angeles) with excellent relationships with judges, prosecutors and police in the area.
If police arrested you for Los Angeles DUI, you may feel scared and confused. Contact Harvard Law School educated, ex-prosecutor Michael Kraut for assistance at (323) 464-6453 or online. We're located at 6255 Sunset Boulevard, Suite 1520, Los Angeles, California 90028.