Woman Thanks Cop for DUI Arrest
There are many things that people picked up for a DUI in Los Angeles would probably like to say to the officers who arrested them. "Thank you" is usually not one of them. But one California woman had a different reaction. Six months after her arrest, Mariya Fair returned to the police station to express her gratitude to the cop who had previously charged her with DUI.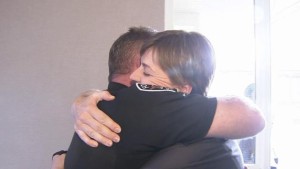 Officer Wayne Blessinger of the Fontana Police Department arrived at an accident scene on New Year's Eve 2014. Fair, 36, had gone through a light and had crashed into two other vehicles. Fortunately, she didn't injure anyone, but Blessinger arrested her for DUI and took her to jail.
According to Los Angeles' ABC 7 Eyewitness News, Fair said that Officer Blessinger looked at the needle tracks in her arms and told her, "You know you're so young. I don't know what's going on in your life, but you need to get yourself in order, you need to get your life in order." Blessinger said he didn't think he was getting through, but his words made a big impression on Fair. She had attempted suicide earlier in the month and was already planning another try when the cop spoke to her. After her arrest she turned her life around.
Fair, who is the mother of two, said Officer Blessinger was the first person to really notice her and to express concern. So the day after Mother's Day she returned to the police station to thank Blessinger. It was a real surprise to Blessinger, who said he never expected to be thanked for arresting someone.
Do you need assistance constructing an appropriate response to a DUI charge? Look to the Kraut Law Group's Michael Kraut for insight and peace of mind. Mr. Kraut is an experience Los Angeles DUI attorney with many relevant connections in the local legal community.
Did police stop you for driving under the influence in Los Angeles? Contact DUI defense attorney Michael Kraut for assistance at (323) 464-6453 or online. We're located at 6255 Sunset Boulevard, Suite 1520, Los Angeles, California 90028.