When drivers suspect they've had a few drinks too many, one of the best things they can do is park their vehicles and get them off the road. But when they're at risk for a DUI in Los Angeles–or any other jurisdiction, for that matter—they should be careful to determine whether or not their parking spot is a good one.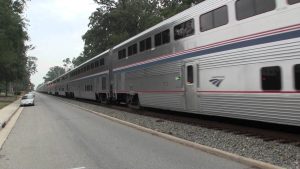 Hung Tran, 54, didn't do a very good job in selecting the place to park his vehicle. He left it on the train tracks near Hanahan, South Carolina around the time that the Amtrak Auto Train Number 52 was heading to that same spot. Tran did manage to get out of his vehicle before the train hit, but the impact caused a large crash (heard by nearby neighbors) and delayed travel along the tracks for three hours. Fortunately, no one on the train suffered injuries.
When police gave Tran a breathalyzer exam, they measured his blood alcohol content at .15 percent—almost twice the legal limit. He now faces DUI charges.