Twenty five-year-old Aloni Bonilla was arrested for DUI in Los Angeles back in 2012 on the westbound 10 freeway. But did the officer who slammed her head into a wall use excessive force?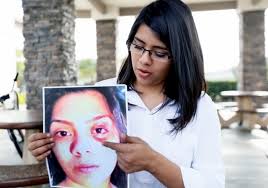 Bonilla just filed a federal lawsuit against Officer Jose A. Ramirez for violating her civil rights during the DUI arrest. According to reports, Bonilla had been driving from Baldwin Park to Alhambra to visit a friend. Due to unclear signage, she wound up on a shut down part of the 10 near the Francisquito Avenue onramp. An officer pulled over on suspicion of DUI and gave her a breathalyzer test, which suggested that she had alcohol in her system. He then took her to a local hospital for a DUI blood test.
The Cal State Los Angeles student said that Officer Ramirez became violent at the hospital: "He grabbed me by my arm, lifted me out of my chair, turned me around and slammed — drilling it — my head into the wall. On the wall was a mounted object, and the left side of my face immediately started to bleed and swell." She claimed that Ramirez then radioed that she was resisting arrest, he used a knee to hold down her back and then cuffed her. She said "I'm 120 pounds, this is a 220 pound, 6-foot male Latino officer … I was never given medical treatment, I never got that blood sample."
Aloni lost her DUI case, in spite of video evidence that showed the entire handcuffing process unfold. The Los Angeles County Superior Court judge did not allow the footage to be used in her case because prosecutor said that it was prejudiced against Ramirez.
However, the surveillance video went up on YouTube and sparked a wave of sympathy for Aloni, prompting protestors to petition outside a federal court house with signs that read "stop police brutality" and "justice for Aloni." Bonilla told reporters last week: "This is bigger issue … I want the public to know that resisting arrest can be used as a cover up charge when an officer uses excessive force."
It's obviously unclear how Bonilla will fare in her lawsuit, but her story drives home how confounding and complex the DUI defense process can be. If an officer does exert excessive force, how can you prove it? In Bonilla's case, even though she had video proof of what happened to her, she still couldn't win her DUI case.
To construct an appropriate defense, talk to Michael Kraut of the Kraut Law Group. For over 14 years, Mr. Kraut served as a senior level prosecutor for the city before switching over to representing defendants in Los Angeles DUI cases. Continue reading