Drivers at risk of a charge of DUI in Los Angeles take note: if you want to avoid police notice, don't drive a vehicle that looks like it's been involved in a wreck. Had Jonathan Bruno of Raritan Township, New Jersey, followed that advice he might not be facing some serious criminal charges today.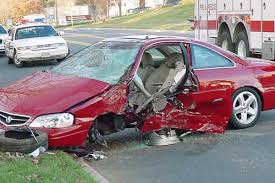 According to the Hunterdon County Democrat, Bruno, age 19, had sideswiped a guardrail along Route 202-31 north just before he met Patrolman Anthony Moreno. The officer wasn't looking for drivers under the influence; he was on the scene because a fallen tree limb had hit some electrical wires.
But the officer couldn't help noticing Bruno's car. It had come out the worse for wear in its encounter with the guardrail, with the passenger side damaged and the front tire on that side flat.
It didn't take Patrolman Moreno long to figure out that Bruno was in no shape to drive, perhaps due to the heroin and syringe that the officer found in the back of his vehicle. Police eventually charged Bruno with possession of those items and with a whole list of other offenses, including careless driving, reckless driving, leaving the scene of a motor-vehicle crash, failure to report a motor-vehicle crash, driving an uninsured vehicle, violating the terms of his probationary driver's license and possession of a controlled dangerous substance in a motor vehicle.
A friend came to pick Bruno up from the police station. Since Bruno isn't likely to get his driver's license back soon, he may be relying on such rides in the foreseeable future.
In a similar case, police in Hendersonville, Tennessee, responded to a call about a possibly intoxicated driver sitting at a traffic light. When they spotted 19-year-old Ben Steele's damaged car, they decided to take a closer look. Steele couldn't tell them what happened—and couldn't pass the sobriety tests either—but officers eventually traced the damage back to a mailbox he had hit. Officers charged him with failure to report an accident, leaving the scene of an accident, driving under the influence and underage consumption.
Do you need assistance constructing an appropriate response to a DUI charge? Look to the Kraut Criminal & DUI Lawyers' Michael Kraut for insight and peace of mind. Mr. Kraut is an experienced Los Angeles DUI attorney with many relevant connections in the local legal community.