An unusual medical condition enabled a woman in Albany, New York, to avoid conviction for driving under the influence. It makes you wonder whether people will start making appointments with their doctors as well as their lawyers after police charge them with DUI in Los Angeles.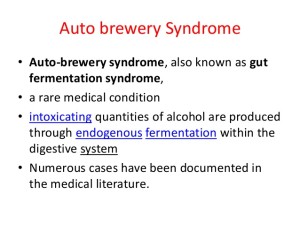 ABC 7 News in San Francisco reported that the unnamed woman had a blood alcohol content of 0.33 (as measured by a breathalyzer) when police pulled her over in October 2014 for erratic driving. But the woman (unnamed because of medical confidentiality laws) said she had not had more than three drinks in six hours.
The woman's lawyer, Joseph Marusak, first contacted Barbara Cordell of Penola College in Texas, who had published a study of a man who had "auto-brewery syndrome." In this condition, the body's digestive system converts ordinary foods—those with high carbohydrate content—into alcohol. (The intestines literally ferment them into alcohol.) In the case that Cordell studied, a 61-year-old man had suffered periods of drunkenness, despite the fact that he had not been drinking.