Southern California Credit Card Fraud Analysts Keenly Watching Reggie Wayne Drama Unfold
Most cases of Southern California credit card fraud fail to make the headlines, either because they involve relatively insignificant sums of money or because they involve people and corporations that everyday people don't know or care much about.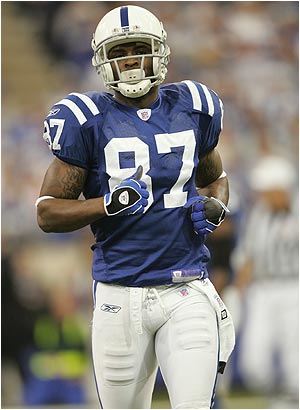 However, a breaking story out of Indianapolis has heads swiveling across the nation. A Pro Ball receiver for Indianapolis Colts – Reggie Wayne – is locked in a heated battle with an ex-girlfriend over allegations that she fraudulently misappropriated his credit cards to the tune of nearly $100,000.
The Indianapolis Star quoted a local police sergeant, Paul Thompson, about the matter: "We found that over approximately one year of time that $60,000 of cash and $35,000 of merchandize had been misappropriated by the use of a debit card or credit card number." Wayne's ex-girlfriend, 26-year-old Natasha McKenzie, downplayed the charges to a local radio station, saying in effect that Wayne had authorized her to use the card. But Sergeant Thompson insisted that McKenzie had admitted to the police that she used the card without authorization.
After being alerted by Wayne in April, the Indianapolis police conducted an investigation and eventually got a warrant to search McKenzie's apartment. Last week, the police went over to her residence. She was not home, so they forced entry (which was allowed by the warrant) and confiscated property that was ID'd as having been purchased with Wayne's credit card. This property included a living room set, some TVs, and other equipment – as well as property that she allegedly purchased with cash taken from the card.
Reggie's representatives have so far declined to comment about the ongoing investigation, although Southern California credit card fraud experts believe that the drama between Wayne and his ex may escalate and become more public as more details trickle out.
If you or a loved one has been arrested and charged with credit card fraud in Southern California, prosecutors may charge you under various sections of the California Penal Code. For instance, mail theft is charged under Penal Code Section 530.5(e); whereas receiving stolen property is charged under Penal Code Section 496(a). If you make a false financial statements, prosecutors can charge you under Penal Code Section 532a(1); whereas if you unlawfully access credit card activity, you will subject to punishment under Penal Code Section 484i(c).
The reason we are bandying about these various penal code sections is to illustrate just how complicated even a simple charge of Southern California credit card fraud can become. To that end, whether you face a simple charge or a complex series of charges in conjunction with credit card fraud, mail fraud, or any other white collar crime in Southern California, it behooves you to get solid legal representation.

Attorney Michael Kraut of the Kraut Criminal & DUI Lawyers is a Harvard Law School educated former prosecutor who has a terrific record with jury trials and a deep understanding of applicable law. Given the incredibly high stakes that you and your family face – both from a personal freedom standpoint and from a financial standpoint – it behooves you to connect today with Attorney Kraut to go over your options in confidence.