Sex Crimes, Bankruptcy Fraud, Los Angeles Lewd Conduct and More: Not a Terrific Legacy for Former World Series Legend, Lenny Dykstra
49-year old ex-professional baseball player, Lenny Dykstra, was sentenced last week to half a year in federal prison in conjunction with bankruptcy fraud charges. Dykstra, the ex-Met and Phillie who went by the nickname "Nails" and who helped the New York Mets cap off their Cinderella 1986 season with astonishing come-from-behind victories against the Astros and the Red Sox, has since seen his life go downhill in a catastrophic fashion.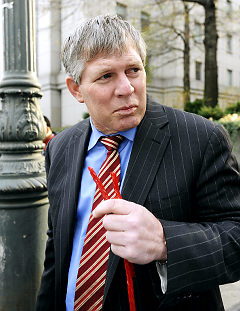 In addition to bankruptcy fraud charges, he has also faced Los Angeles lewd conduct charges, grand theft auto charges, assault with a deadly weapon charges, and more. During his recent trial, he also confessed to providing misleading testimony regarding an L.A. home that he had bought from hockey great, Wayne Gretzky.
Back in April, his Los Angeles lewd conduct and assault charges netted him a 270-day jail sentence. Dykstra allegedly lured women to his home via Craigslist ads: he claim to be looking for an assistant/housekeeper. He then forced himself upon these women. One woman said that Dykstra held her at knifepoint and ordered her to massage him. In addition to his 500-hours of community service and six months in jail, he'll also have to pay $200,000 in restitution re his bankruptcy fraud charges.
Just because you've been hit with Los Angeles petty theft, grand theft, or lewd conduct charges does not mean your life is over.
One of the interesting, if sad, aspects to Dykstra's "riches to rags" saga is the timeless lesson that our destiny is not carved in stone. You may be on the top of the world one day: a nationally-adored World Series hero. The next day (or years later), you may find yourself pegged with multiple ignominious criminal charges and facing years behind bars and other punishments.
If you find yourself relating to the "rags half" of Dykstra's story, there is reason to take heart, however. In America, we are given the opportunity to rebuild ourselves and find new meaning, even after "the worst" happens. Even if your Los Angeles criminal defense attorney is unable to help you beat your charges, and you wind up facing substantial penalties and a long time behind bars, you still have control over your mental and spiritual destiny. You can rebuild your life, your relationships, and your sense of meaning.
Success is by no means guaranteed. You probably need to make some internal changes – do some significant introspection – and you could also use empathetic guidance from an experienced Los Angeles criminal defense attorney, like Michael Kraut of the Kraut Law Group. Attorney Kraut served for nearly 15 years as a prosecutor of Los Angeles lewd conduct and fraud charges. Find out more about attorney Kraut and his team online today, or call for a free case evaluation.