NFL Legend, Bruce Smith, Once Convicted of DUI, Warns about Dangers of Super Bowl Sunday DUIs
Los Angeles DUI arrests can leave painful residue. Consider what happened to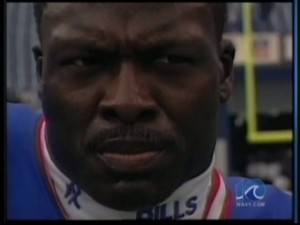 – the greatest sack artist in the history of the National Football League – after he got pulled over and arrested for DUI in 2009 in Virginia Beach.
Despite playing in four Super Bowls, racking up an unbelievable 200 sacks, and playing All-Pro 11 different times, Smith perseverates most on one statistic he wishes he could forget: his DUI charges.
To that end, Smith chose to work with Anheuser-Busch to create a Public Service Announcement (PSA) to spread the awareness about the dangers of DUI during the Super Bowl. Super Bowl Sunday is one of the most deadly times of the year for DUI driving. Other than New Year's Eve — and, possibly, the day before Thanksgiving — Super Bowl Sunday is the worst day to drive all year.
In the ad, Smith tells viewers: "I was disappointed with myself and those close to me… please, learn from my story and make sure a safe ride home is part of your game plan."
The 50-year-old Smith talked to reporters about the purpose of the ad: "the object of this campaign is to focus on Super Bowl Sunday and encourage people who plan to drink to have a game plan… Anheuser-Busch is trying to make it a safer experience for all fans."
Not everyone is convinced by this message. Bruce Livingston of Alcohol Justice, a watchdog organization, sees the move as a slick marketing ploy: "what Anheuser-Busch is really saying is 'drink up'… they are not promoting moderation in drinking at all. They are committed to promoting beer consumption."
Smith, who claims to always use a designated driver now, told reporters that it's challenging to confront the past and think deeply about his DUI: "to pull a scab off an old wound is not something anyone likes to do… if this helps one person make a wise decision, it's worth it."
Acknowledging mistakes made can be a deeply humane but also quite painful experience. In moments of crises, we can make less than ideal decisions. For instance, any driver stopped for suspicion of DUI must consider whether to submit to a chemical test, such as breath, blood, or urine test.
If you refuse to test after being arrested for DUI, you can face major consequences. If you're under 21, you must submit to a preliminary alcohol-screening (PAS) test. If you're on probation, and you refuse, your refusal — in and of itself! — can be considered a violation of your probation, and you can go back to jail.
Once you're arrested, you must take either a blood test or breath test. If police suspect that you have been using drugs, you need to take a urine test.
The definition of what legally constitutes "refusal" can be hazy.
If you spend a long time before responding to an officer's request, that could be considered a refusal, but only under certain conditions.
If you were impaired or unconscious — and/or you couldn't understand or hear the request — the Court will likely not penalize you for refusal. The police also must advise you about the consequences of refusing a test.
Those consequences, however, can be pretty severe.
A refusal can, for instance, tack on additional jail time to your sentence. As far as the DMV is concerned… your refusal can lead to a total suspension of your license for a full year – without the possibility of a restricted license. The situation can get more severe from there, if you have racked-up additional DUI convictions.
To understand your options and make smarter choices, connect with an experienced Los Angeles DUI attorney at the Kraut Criminal & DUI Lawyers today for a free consultation.

If police stopped you for Los Angeles DUI, you may be worried and anxious. Contact Harvard Law School educated, ex-prosecutor Michael Kraut for assistance at (323) 464-6453 or online. Our team is located at 6255 Sunset Boulevard, Suite 1520, Los Angeles, California 90028.