Massive Lewd Conduct Arrest in Manhattan Beach – Los Angeles Lewd Conduct Law Firm Reports
Eighteen men were arrested last week on Los Angeles lewd conduct charges, after officers cracked down on activity going on in a Manhattan Beach restroom.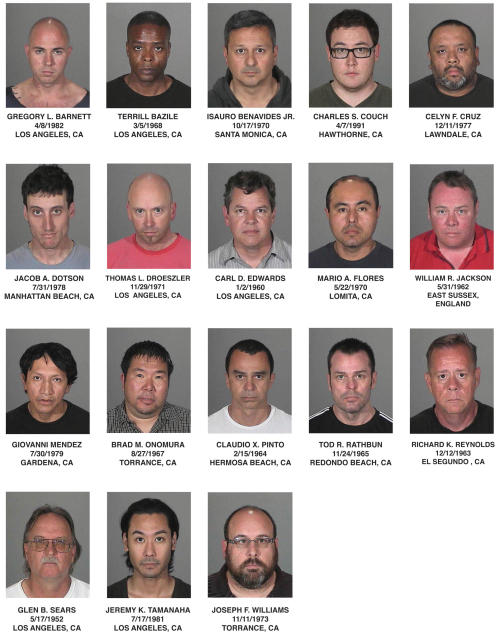 Local lifeguards had noticed men entering the bathroom and remaining inside for a long amount of time. They alerted police that they suspected the public restroom might be a meeting place for sexual activity. According to a Daily News report, men sometimes stayed in the restroom for longer than an hour, and the same people would return often. Lifeguards also found graphic sexual images on restroom walls and holes drilled through stall partitions.
The Manhattan Beach Police Department conducted surveillance of the bathroom and began to make arrests. They also used the web to survey what was being said about the bathroom online. Six police officers went undercover, pretending to be men looking for sexual activity. The sting ultimately resulted in the arrests of 18 suspects, who were slapped a battery of charges including:
• Los Angeles lewd conduct in a public place;
• Using a restroom peephole;
• Invasion of privacy;
• Loitering for the purpose of soliciting a lewd act;
• Indecent exposure;
• Resisting arrest
Many of the men who have been arrested no doubt face a very difficult and frustrating legal road ahead. If you are convicted of charges of lewd conduct in Los Angeles, you cannot only face penalties like jail time and fees but also the potential of being tagged as a sex offender. This label can create massive logistical, social, and financial headaches, perhaps for the rest of your life.
One defendant, Claudio Pinto, who claimed to be "in the wrong place at the wrong time" said the arrest has "completely ruined (his) life."
The arrests prompted a major protest by Los Angeles area gay rights association, the LA Gay and Lesbian Center. The Los Angeles Times quoted the chief of staff for the organization, Darrel Cummings, who said "naturally we don't condone illegal activity of any kind… but these men haven't been proven guilty and historically, charges such as those leveled against them have involved police entrapment. Publishing their photos serves no purpose rather than to humiliate and destroy their lives." Another writer, for the LA Weekly, censured the MBPD, saying the arrested men were "sentenced to eternal life [of struggle]" because their mug shot photos were uploaded forever to the "undiscerning internet."
If you or someone you care about faces similar charges, the actions you take now to protect your rights and get good legal input can mean the difference between a jail sentence/permanent sex offender label and putting this all behind you. Attorney Michael Kraut of the Kraut Criminal & DUI Lawyers can help you understand what to do (what not to do) to fight your sex crime charges. Whether you were entrapped in a public bathroom — or you face multiple other counts, such as petty theft in Southern California or violent crime charges in Los Angeles — attorney Kraut can provide you with the ace defense you need.