Los Angeles Lewd Conduct Irony Alert! Sex Assault Chief for Air Force Busted on Charges of Sexual Battery
After being arrested on sex crime charges in Southern California, you're probably not that interested in ironic new stories.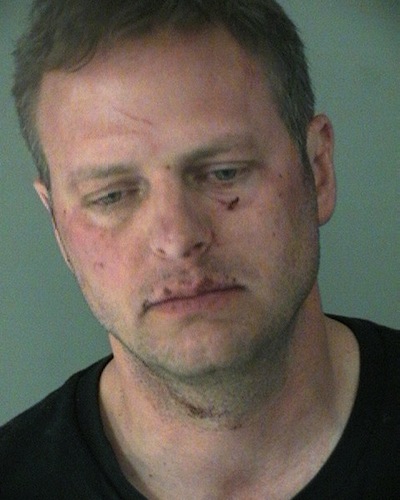 But one whopper in the news — that just went viral — should get your attention. It concerns 41-year-old Lieutenant Colonel, Jeffrey Krusinski, the head of the Air Force's Sexual Assault Prevention Response Program. Authorities just arrested him on… wait for it… charges of sexual battery!
Krusinski's (now famous) mug shot — picturing him with cuts on his face — almost instantly circulated around the internet. Officials say that Krusinski allegedly drunkenly groped a woman in a parking lot in Arlington, Virginia. Ann Stefanek, a spokeswoman for the Air Force, detailed the events to the Los Angeles Times:
"On May 5 at 12:35 A.M., a drunken male subject approached a female victim in a parking lot and grabbed her breasts and buttocks…the victim fought the suspect off, because he attempted to touch her again, and alerted police."
The assault happened near Ronald Reagan National Airport, at a stretch of bars and shops. The woman apparently had no idea who Krusinski was. The Lieutenant Colonel secured his release with a $5,000 bond. Unsurprisingly, the Air Force acted swiftly to remove Krusinski from his position to "educate people about the sexual assault programs in the Air Force," which he held since early February.
Here's the official mission statement of the program that Krusinski had been leading (!): "to eliminate incidences of sexual assault through awareness and prevention training, education, victim advocacy, response, reporting and accountability. The Air Force promotes sensitive care and confidential reporting for victims of sexual assault and accountability for those who commit these crimes."
The Air Force has had a wickedly difficult time with sex crime charges over the past few years. In 2012, authorities charged nearly three dozen boot camp instructors at the Air Force with abusing, harassing, and having sex with 59 recruits at an Air Force base in Texas. Earlier this year, two high level generals in the Air Force (three stars) got scathingly reviewed for pardoning sex offenders in the Air Force.
Whether you got arrested for Los Angeles lewd conduct when a police officer entrapped you at a bathroom; or you stand accused of a more serious sex crime (potentially involving assault or non-consensual behavior), you need help. You are legally entitled to a fair and sound defense. The team here at the Kraut Law Group will listen to you and give a compassionate, reasonable assessment of what you can do to manage your charges. Connect with Attorney Kraut and his team today for a free and confidential discussion about your case.