Long Beach DUI News: Jay Ratliff (of the Dallas Cowboys) Whacked with DWI Charge
Driving under the influence in Long Beach – or really anywhere in the country – can ruin your career. That's true whether you're a grocery store clerk or an NFL Pro Bowl superstar.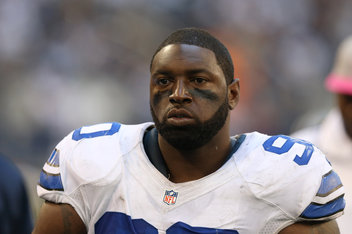 Consider the recent arrest of Jay Ratliff, a starting nose tackle for the Dallas Cowboys, who was arrested recently in Grapevine, Texas. He rammed an 18-wheel truck with his Ford F 150 truck while allegedly DUI. No one got hurt in the crash – Ratliff was the only person in his truck.
A local police officer, Sam Shemwell, said that Ratliff refused a breath test. But police asked for and got a search warrant to do a blood test on Ratliff. His toxicology reports have not come back.
The nose tackle's arrest came just a month and a half after a much more awful disaster took the life of Cowboys' linebacker, Jerry Brown. We covered that story when it happened. But to refresh your memory: Josh Brent, another Cowboy, got into a DUI accident that led to Brown's death.
If convicted of the charge of intoxicated manslaughter, Brent could face two decades behind bars.
After what happened with Brown, the Cowboys have asked all players to install something called "safe key" in their cars. This device is similar to the interlock ignition devices (IID) that Long Beach DUI convicts often must use in their vehicles. The device prevents people from driving if they test positive for alcohol in their system.
Back in December, Ratliff got into a "volcanic" shouting match with Jerry Jones, the owner of the Cowboys. Jones recently told ESPN.com "As far as I'm concerned [Ratliff] is outstanding. He has given everything he has ever had to the Dallas Cowboys."
Who knows how Jones will react to Ratliff's recent arrest? But the DUI problem is certainly not going to help him with his employer.
That goes for anybody who has been arrested for a crime like Long Beach DUI. When you get in trouble on the 405 or elsewhere — even if you're nowhere near work — your problems can follow you to the office. For instance, if you lose your license after a Long Beach DUI, you may not be able to get to your job. Furthermore, your arrest can reduce your employer's trust in you, make it more difficult for you to find new work, and create other challenges and financial burdens.
So what should you do?
If you haven't yet connected with a Long Beach DUI criminal defense lawyer, consider talking today to attorney Michael Kraut with the Kraut Law Group. Mr. Kraut is a Harvard Law School educated ex-prosecutor who has tremendous, extensive experience helping clients like you get good results and feel back in control of their lives.

If you have been arrested for a crime in Long Beach, please contact Long Beach criminal defense attorney Michael Kraut for 24/7 assistance by phone at (562) 531-7454 or toll free at (888) 334-6344 or online. We're located at 444 West Ocean, Suite 800, Long Beach, California 90802.