Double Zap DUI – Police Bring Down Fleeing Suspect with Two Jolts of a Taser
If there's any state with crazier DUI stories than Southern California, it is Florida.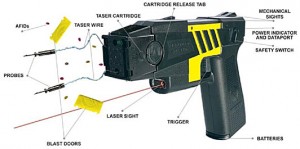 To wit, consider a bizarre arrest last week out in Manatee Country, where 42-year-old Larry Ryans was busted for multiple charges, including DUI, possession of a concealed weapon and resisting arrest without violence, after he bolted from police while sherriff's deputies tried to handcuff him.
According to local reports, a deputy stopped Ryans at around 2:20 a.m. on Sunday (a common time for DUI busts, since that's when Saturday night parties tend to end) at 14th Street and Bayshore Gardens Parkway. Deputies apparently put Ryans through the paces of a field sobriety test and found probable cause that he had been DUI.
And so began the arrest process… But Ryan was having none of it!
Before officers could handcuff him, he twisted and bolted, tearing across the parking lot of a local Target. A deputy brought out his taser gun and zapped Ryans with the taser. The man collapsed onto the parking lot but then got up again and kept running. Another deputy fired a second taser shot, knocking Ryan down and allowing officers to cuff him and book him.
Paramedics treated Ryans for abrasions to his arms and hands and found two taser probes embedded in him – one in his lower left leg and one in his lower back. Deputies also alleged that Ryans had a concealed dagger inside his shirt. Authorities held him on a $50,000 bond.
We've discussed in the past how DUI defendants often make their situations (much, much) worse after they get caught, because they resist arrest, leave the scene and otherwise engage in unwise/illegal practices. The job of the defense attorney, therefore, becomes more complicated. The goal is not just to figure out why you got the DUI and what you can do to fight it but also to understand the gamut of other coincidental charges.
Along those lines, police can also say or do things during or after a stop that can complicate the process. Sometimes, the police are justified in taking extreme measures, like using tasers to stop people from fleeing arrest. In other cases, police use excessive force, pull people over without probable cause or otherwise violate people's Constitutional rights.
The moral is that you need an attorney who can understand the entire context of your arrest — as well as all the charges at play — and construct a defense that's tailored to your needs.
Fortunately, the team here at the Kraut Law Group has a great track record of building effective defenses. Contact former city prosecutor and Harvard Law School educated Los Angeles DUI attorney Michael Kraut immediately to set up a free consultation.
If you've been arrested for driving under the influence in Los Angeles, contact former-prosecutor Michael Kraut for assistance at (323) 464-6453 or online. Our team is located at 6255 Sunset Boulevard, Suite 1520, Los Angeles, California 90028.